The Best Nature Sites in Kona That You Have to Visit
Hold on to your snorkels and lace up those hiking boots, because Kona on the Big Island of Hawaii is not just your average Instagram backdrop—it's a full-on sensory overload! Peppered with everything from towering summits to shimmering bays, Kona is the paradise you didn't know you needed.
Whether you're a rugged mountaineer or more of a "I'll just dip my toes in the water" kind of person, Kona has something to tickle your adventurous spirit. So, pay attention, because you're not going to want to miss a single pixel of this visual buffet of nature's best.
Mauna Kea Summit
Kealakekua Bay
Hapuna Beach State Park
Kona Cloud Forest
Puʻuhonua O Hōnaunau National Historical Park
The Peak of Hawaiian Adventures (or Let's Get High—Altitude, That Is)
Yeah, yeah, Everest is tall. But Mauna Kea takes the prize for most height from base to summit, and it won't give you frostbite (usually). The summit rises majestically to 13,796 feet, which is great for bragging rights and even better for the jaw-dropping vistas.
Why You Should Go
Stargazing: If you're one of those folks who still wishes upon a star, you're in for a treat. With some of the world's top astronomical observatories here, you can basically high-five Orion's Belt.
Sunrise and Sunset: If you've ever wanted to have a "Lion King" moment and hold something aloft as the sun rises, here's your chance. The horizon basically bows down to you up here, making for sunrises and sunsets that you'll need to see to believe.
Kealakekua Bay
Snorkeling Paradise (or Where Nemo Actually Lives)
A snorkeler's dream, this bay should be on everyone's bucket list. Seriously, if you're trying to find Nemo, this is probably where he's hiding.
Why You Should Go
Captain Cook Monument: If history were taught through snorkeling trips, we'd all be A+ students. Visit the spot where Captain Cook first said "Aloha" and later bid goodbye.
Diverse Marine Life: From coral that took design tips from Picasso to fish that sparkle like they're attending the Met Gala, this bay is a living work of art.
The Quintessential Beach Experience (or How to Master the Art of Beach Bumming)
Hapuna Beach isn't just any beach; it's THE beach—powdery sand, turquoise water, and all the beach volleyball games you can handle.
Why You Should Go
Watersports: If you've ever wanted to ride a wave like a boss, this is where you do it. And if you wipe out, you're still in Hawaii, so how bad can it really be?
Picnic Areas: Perfect spots to eat, nap, repeat. The facilities even include restrooms, making it a truly "civilized" wilderness experience.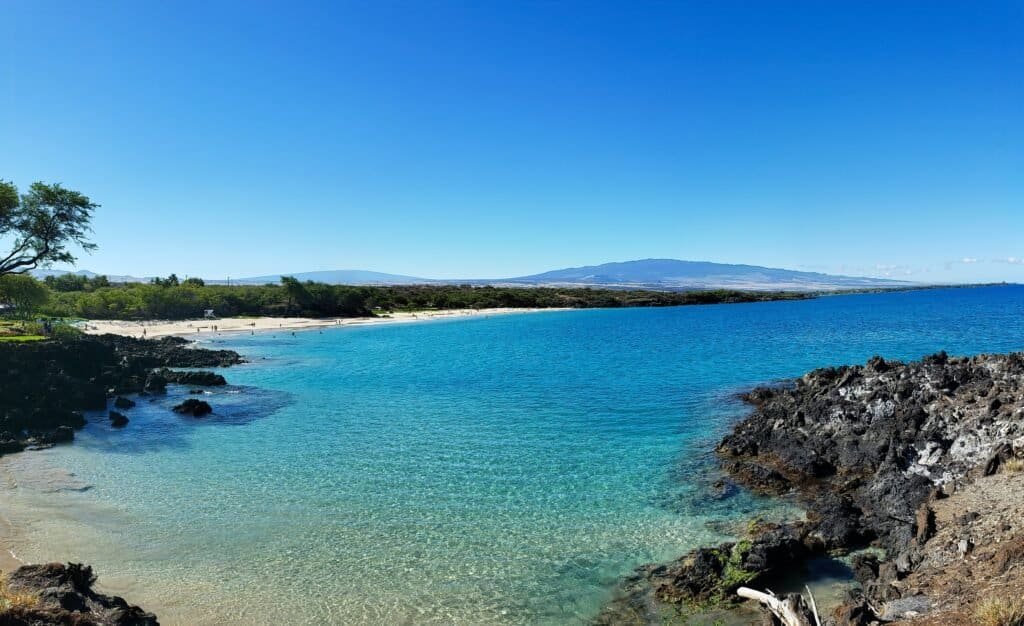 An Ethereal Escape (or Where Fairytale Meets Reality)
Cloud forest might sound like the setting of your next favorite fantasy novel, but it's real, and it's in Kona. Think of this place as the ultimate forest bathing locale—minus the soap.

Why You Should Go

Guided Tours: In this jungle, the experts are the king. These guided tours are led by naturalists who know more about the local flora and fauna than most of us know about our own cellphones.

Photography: If your Instagram is suffering from a lack of misty, ethereal landscapes, this is your cure. Trust me; your followers will thank you.
Puʻuhonua O Hōnaunau National Historical Park
A Glimpse into Ancient Hawaii (or How to Break the Law and Not Die)
Breaking a law in ancient Hawaii could get you killed, unless you made it to this sanctuary. Think of it as the ultimate "get out of jail free" card, Hawaiian style.
Why You Should Go
Cultural Experience: Immerse yourself in ancient Hawaii, minus the human sacrifices. Learn about kapu (ancient laws), try your hand at traditional games, and contemplate the giant ki'i (wooden statues) that guard the place.
Unique Scenery: If you're tired of your average forest and mountain backdrops, how about palm trees with an ocean horizon? Yeah, thought so.
Nearby Accommodations: Sleep, Slide, Repeat
Conclusion:
Aloha, Adventurers!
So, you've been on a virtual tour of Kona's crown jewels, and by now, you might be feeling like a cooped-up treasure hunter who's just been handed a map. "X" marks the spots, and folks, there are many "Xs" in Kona. But enough with the scrolling; it's time to do some actual strolling—and swimming, and hiking, and whatever else your adventure-craving heart desires.
So, What's Next?
Well, first things first. Toss out those well-meaning but inevitably limiting itineraries. The Big Island doesn't do "rigid schedules," and neither should you. Go where the trade winds take you (but, you know, also use a GPS so you don't get lost; this is still an adventure, not a survival show).
A Few Pro Tips (Because We Care)
Packing: Think layers. Kona gives you beach and mountain in one package, making it the Katy Perry of travel destinations—"Hot N Cold."
Car Rentals: Public transport is a bit sparse, so rent a car to truly unleash your inner explorer. And get that 4WD if you're planning on conquering Mauna Kea.
Local Customs: When in Kona, do as the Konians do. Learn a couple of Hawaiian phrases, respect the 'aina (land), and whatever you do, don't take the lava rocks home unless you want a lifetime of bad luck (we're looking at you, Instagram influencers).
And Remember…
If you find yourself standing atop Mauna Kea, peering into the abyss of the universe while contemplating life's mysteries, just know—you're doing Kona right. And if you find yourself halfway through a snorkeling adventure in Kealakekua Bay, sun-kissed and with a newfound fish friend named Bob, guess what? You're still doing Kona right.
So, to everyone between the ripe ages of 20 and 35—and to adventurers of all ages, really—your Hawaiian playground awaits. Grab that metaphorical shovel, because it's time to dig up Kona's treasures. As they say in Hawaii, "Hele me kahau 'oli" — go with joy. And in Kona, joy is exactly what you'll find.