Waves of Wonder: Unveiling the Virginia Beach Boardwalk's Family-Friendly Delights
VIRGINIA BEACH BOARDWALK
EXPLORER ARTICLES
The Enchanting Virginia Beach Boardwalk: A Family-Friendly Haven
Picture this: a sun-drenched stretch of pristine sandy beaches, an ocean of possibilities, and a vibrant promenade bustling with excitement and family-friendly entertainment. Welcome to the Virginia Beach Boardwalk, a coastal gem that has captured the hearts of families seeking a memorable vacation.
Nestled in the lively city of Virginia Beach, this iconic boardwalk has become synonymous with relaxation, adventure, and cherished memories.
What makes the Virginia Beach Boardwalk so beloved? Its popularity lies in its ability to cater to every family's desire for an unforgettable experience.
Its alluring mix of natural beauty and urban charm offers something for everyone in the family. Little ones can build sandcastles by the shimmering Atlantic Ocean while parents bask in the warm sun or stroll along the promenade.

The large walking path along the boardwalk provides a safe and secure environment where families can create lasting memories together. Family-friendly destinations like the Virginia Beach Boardwalk have gained immense importance in today's fast-paced world.
Vacation during the Summer season is an opportunity for families to bond, rejuvenate their spirits, and escape the stresses of everyday life – making it crucial to choose destinations that cater specifically to these needs.
This section features several affiliate links, meaning we'll earn a small commission if you purchase through these links.
A SMALL LIST OF FUN THINGS TO DO ON VIRGINIA BEACH BOARDWALK!
The Virginia Beach Boardwalk is a vibrant hub of activity, stretching for three miles along the oceanfront. Here are 20 things you can do on or near the boardwalk:
1. Stroll or Bike: Take a leisurely walk or rent a bike to explore the entire length of the boardwalk.
2. Beach Time: Sunbathe, swim, or play beach volleyball on the sandy shores of Virginia Beach.
3. King Neptune Statue: Visit the iconic 34-foot bronze statue of King Neptune and snap a photo.
4. Live Music: Enjoy free live music at various stages along the boardwalk, particularly during summer.
5. Oceanfront Dining: Eat at one of the many oceanfront restaurants, offering everything from seafood to international cuisine.
6. Fishing Pier: Visit the Virginia Beach Fishing Pier for fishing or enjoy the view.
7. Surf Lessons: Take surf lessons from one of the local surf shops along the boardwalk.
8. Boardwalk Art Show: Check out the annual art show featuring artists nationwide.
9. Visit the Atlantic Fun Park: Enjoy the rides and games at this family-friendly amusement park.
10. Mini Golf: Play a round of mini golf at one of the nearby courses.
11. Virginia Legends Walk: Learn about notable Virginians throughout history at this educational attraction along the boardwalk.
12. Nightlife: Experience the lively nightlife at the various bars and clubs along the oceanfront.
13. Virginia Beach Oceanfront 24th Street Park: Attend concerts, festivals, and events annually.
14. Rollerblading: Rent rollerblades and skate along the boardwalk's designated biking and rollerblading path.
15. Outdoor Gyms: Use the outdoor workout stations to break a sweat with a view.
16. Historical Markers: Learn about Virginia Beach's history through the various markers dotted along the boardwalk.
17. Virginia Aquarium & Marine Science Center: Just a short drive from the boardwalk, this aquarium offers exhibits on marine life and hands-on experiences.
18. Naval Aviation Monument: Pay your respects to the naval aviation community at this impressive monument.
19. Shopping: Browse the many shops and boutiques along the boardwalk for souvenirs and beachwear.
20. Watch the Sunrise: Wake up early and find a spot on the boardwalk to watch the sun rise over the Atlantic Ocean.
Whether you're a beach lover, a history buff, or just looking for some fun, there's something for everyone at the Virginia Beach Boardwalk.
Top 3 Highly rated Nearby Hotels
COASTAL HOTEL AND SUITES VIRGINIA BEACH OCEANFRONT
9.0 / 10 Superb Review From Hotels.com
CHECK IT OUT!
A GATEWAY TO UNFORGETTABLE EXPERIENCES
The Virginia Beach Boardwalk has effortlessly carved out its place as a destination allowing families to embark on extraordinary adventures together. Its sweeping three-mile stretch offers endless opportunities for exploration and enjoyment.
As you step onto this enchanting promenade adorned with charming shops, live entertainment stages, and eateries, you'll be captivated by King Neptune kingdom presided over by his majestic statue. This colossal figure stands proudly as the guardian of the boardwalk, inviting families to embark on a journey of discovery.
The Neptune Statue alone is a testament to the boardwalk's rich history and its status as an iconic landmark. Moreover, the Virginia Beach Boardwalk boasts an array of attractions that cater specifically to families.
From amusement parks that promise thrilling adventures for children and adults alike to museums that offer insights into the region's cultural heritage, there is no shortage of entertainment options. The boardwalk is also renowned for its family-friendly events throughout the year, ensuring every visit brings new and exciting experiences.
VIRGINIA BEACH OCEANFRONT
Family vacations are not just about relaxation and entertainment; they are about creating cherished memories that will be passed down through generations. The Virginia Beach Boardwalk understands this sentiment deeply, offering families an idyllic backdrop where precious moments are born.
Imagine your family basking in the warm glow of a breathtaking sunset over the Atlantic Ocean while giggles fill the air as your children build sandcastles or fly colorful kites along the shore. These simple yet priceless moments become etched in our hearts forever.
Whether indulging in delectable seafood feasts together or sharing laughter on exhilarating amusement park rides, each experience becomes part of your story. The importance of family-friendly destinations cannot be overstated.
They provide us with a refuge from our hectic lives and allow us to focus on what truly matters: spending quality time with those we love most.
The Virginia Beach Boardwalk is a shining example of how such destinations can bring joy, laughter, and cherished memories into our lives – making it one of the most enchanting places for families to explore and create their own stories.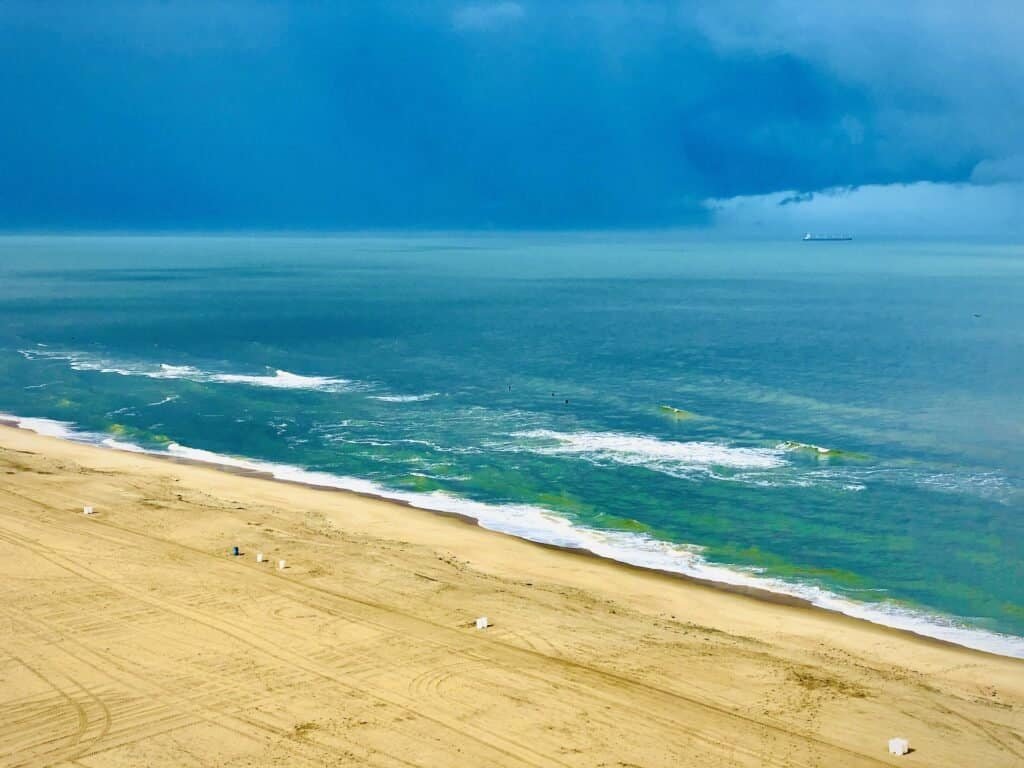 Getting to Virginia Beach Boardwalk
Transportation Options: Driving, Flying, Public Transportation
Who doesn't love the open road? Especially when it leads to sandy beaches and a bustling boardwalk. If you're within a reasonable road-tripping radius, your chariot—a minivan packed with kids or a convertible just for two—awaits!
Your GPS will do all the hard work, but here's a tip: the Virginia Beach Boardwalk hotels and that irresistible fishing pier are snuggled right off Interstate 264. So, once you're in the neighborhood, just let the signs talk.
Want to get the best parking spots? Come early or consider an app that shows real-time parking availability. Your future self, sand-free and lounging on the beach, will thank you.
Flying In: Because Virginia Beach is Just a Plane Ride Away!
Let's say you're allergic to long car rides, or maybe you want to be at Virginia Beach, like yesterday. Enter Norfolk International Airport (ORF), aka your airborne chariot, to the land of surf, sand, and fun!
Don't worry; you're closer than you think! A mere 20-minute car ride separates you from your oceanfront utopia. Rental cars, taxis, and probably a dozen or so travel apps are vying to deliver you to your boardwalk dreams.
Flight Facts and Pro Tips
Norfolk International serves all the major airlines so that you can fly directly from manyof citi; nono layover s required. 
Here's a savvy traveler's tip: check out some lesser-known airlines that fly into Norfolk. You might find killer deals that'll leave you with extra cash for boardwalk cotton candy or an oversized beach umbrella!
Click the Image below for great Car Rental Deals from HOTELS.com!
Accommodations near Virginia Beach Boardwalk
Variety of Lodging options: Hotels, Resorts, Vacation Rentals
When finding the perfect place to stay near the Virginia Beach Boardwalk, you'll be spoiled with various hotel lodging options. Hotels are a popular choice for families and visitors seeking convenience and comfort. 
From well-known hotel chains to boutique hotels, there's something to suit every budget and preference.
Many hotels offer family-friendly amenities such as swimming pools, on-site dining options, and even kids' clubs to entertain the little ones. If you're looking for a more luxurious experience or wish to indulge in resort-style amenities, resorts near the boardwalk are an excellent option.
These resorts often have private beach access, spa facilities, multiple dining options, and recreational activities for guests of all ages. For those who desire more space or prefer a home-away-from-home vibe, vacation rentals are abundant near the various boardwalk attractions.
You can find cozy beach cottages or spacious condominiums that offer fully equipped kitchens and living areas for relaxation after a long day at the beach, and some even come with private balconies where you can enjoy breathtaking oceanfront views while sipping your morning coffee.
Virginia Beach Boardwalk Offers
Picture this: a magnificent stretch of sandy shores extending for three miles, kissed by the gentle waves of the Atlantic Ocean. You'll find that when you step foot on the Virginia Beach Boardwalk.
This iconic surf pathway walk is not your ordinary boardwalk; it's a vibrant center of activity and relaxation, offering something for everyone in the family. Lace-up your walking or bike shoes and prepare for an extraordinary journey along this coastal gem.
VIRGINIA BEACH BOARDWALK A STROLL TO REMEMBER
The Virginia Beach Boardwalk spans 1st Street to 40th Street, providing ample room for strolls and invigorating jogs. As you embark on your adventure, you'll be captivated by the sights and sounds surrounding you.
The boardwalk's layout is meticulously designed with separate lanes for pedestrians and cyclists, ensuring a safe and enjoyable experience. You'll encounter several remarkable landmarks worth stopping by along this enchanting promenade.
One such landmark is the Neptune Statue, a majestic bronze masterpiece standing tall at Neptune Park on 31st Street. This colossal sculpture depicts Neptune, the Roman god of the sea, wielding his trident as he overlooks the ocean waves with an air of serene authority.
Further down the bike path from the boardwalk lies King Neptune's Park—a hub of live entertainment and excitement. 
During the busy summer, families can enjoy various events such as live music and free concerts or indulge in some friendly competition at beach volleyball courts in its confines.
With its lively atmosphere and panoramic ocean and pier views, King Neptune's Park is an ideal spot for visitors to unwind amidst Virginia Beach's coastal charm. For those seeking a cultural expedition during their boardwalk or pier escapade, a visit to the Atlantic Wildfowl Heritage Museum should be on top of their itinerary.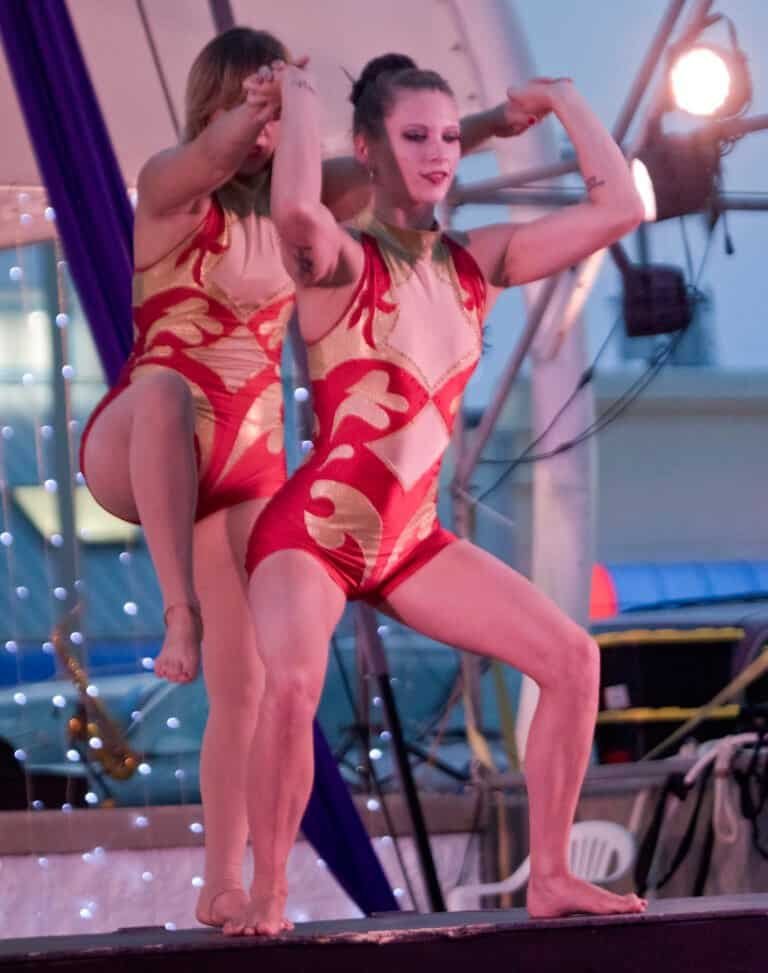 Nestled along this captivating stretch is a tribute to wildfowl artistry's rich heritage. The museum showcases an array of fascinating exhibits that shed light on the history and craftsmanship of decoy carving, a traditional art form deeply rooted in Virginia Beach's coastal culture.

So, as you traverse the Virginia Beach Boardwalk, be prepared to lose yourself in its scenic beauty and immerse yourself in its remarkable landmarks.
Whether you're gazing upon Neptune's mighty presence, mingling with fellow beachgoers at King Neptune's Park, or exploring the intricate world of wildfowl art at the Atlantic Wildfowl Heritage Museum, this iconic promenade promises an unforgettable experience that will leave an indelible mark on your family's journey.
Family-Friendly Activities on the Boardwalk
Beach activities: swimming, sandcastle building, beach volleyball
As you stroll along or walk the Virginia Beach Boardwalk with your loved ones, you'll soon realize that the surf and the sandy shores are the heart and soul of this vibrant destination. 
With its pristine coastline stretching for miles, Virginia Beach offers many family-friendly beach activities that will create cherished memories. Dip in the sparkling Atlantic Ocean and feel the refreshing waves enveloping your body.
The expansive beach not only provides ample space for swimming but also allows you to try your hand at some exciting water sports like boogie boarding or stand-up paddleboarding. Now, if there's one activity that encapsulates the essence of a perfect family beach day, it's building sandcastles.
Picture this: golden sand between your toes, buckets and spades in hand, and little ones enthusiastically constructing their dream castles. Let your imagination run wild as you bring intricate structures to life with moats and towers fit for royalty.
You can even turn it into a friendly competition among family members to see who can build the most elaborate creation! Head to one of the beach volleyball courts scattered along the boardwalk for those craving friendly competition under the sun.
Engage in spirited matches with other vacationers or join a pickup game where camaraderie flows as freely as sunscreen lotion in the summer months does. It's an excellent way to bond with your family while getting active and enjoying the oceanfront, the view, and the cool ocean breeze.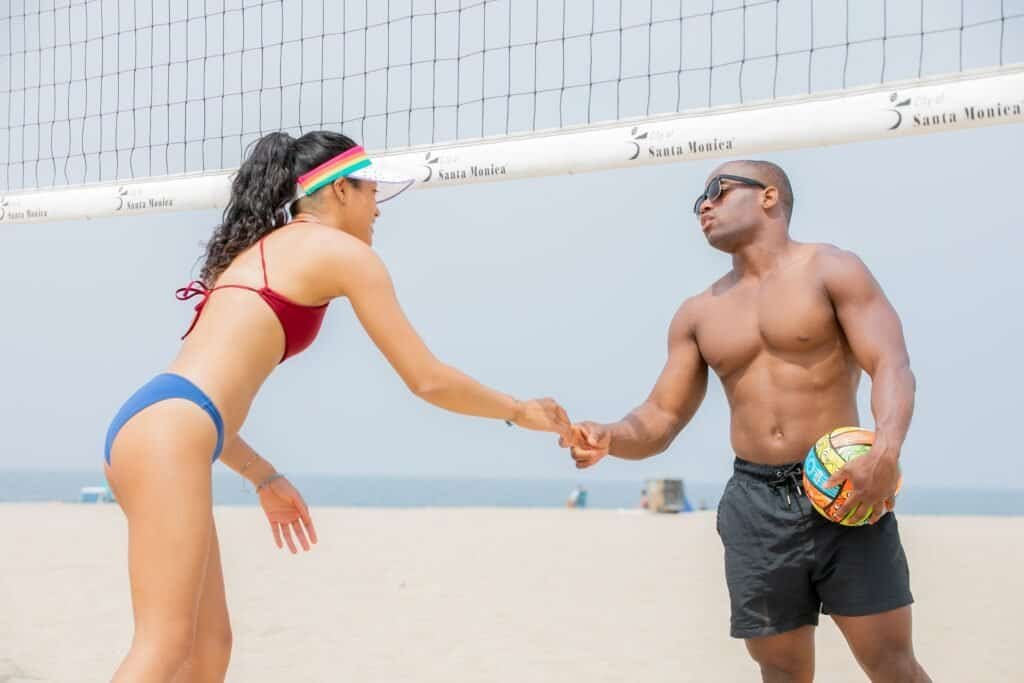 Amusement Parks and Attractions Nearby: Ocean Breeze Waterpark, Adventure Park at Virginia Aquarium
When you're ready for a change of scenery from the sandy escapades of Atlantic Fun Park but, still seek thrilling adventures nearby. 
Look at two fantastic amusement parks just minutes from Virginia Beach Boardwalk. Ocean Breeze Waterpark promises hours of laughter-inducing fun for the whole family.
With its thrilling water slides, lazy rivers, and wave pools, there's no shortage of wet and wild excitement. Watch your little ones squeal delightfully as they navigate mini slides designed just for them in a dedicated children's area.
This aerial ropes course offers an exhilarating challenge amidst the beautiful natural setting of the aquarium's marshlands. Traverse through suspended bridges and zip lines as you travel from one treetop platform to another.
The courses cater to varying difficulty levels, ensuring children and adults can participate at their own pace. 
So whether you find yourself plunging down water slides or conquering treetop challenges, these nearby attractions will infuse your Virginia Beach vacation with unforgettable family fun and adventure moments.
VIRGINIA BEACH FISHING PIER
The iconic Virginia Beach Fishing Pier offers an enchanting blend of fishing activities, picturesque views, and delectable local seafood. 
This bustling hotspot attracts tourists and locals, providing a genuine taste of coastal America. Whether you're an experienced angler, a photography enthusiast, or a foodie, you'll find something to love.
Enjoy quality fishing for diverse marine species, including croakers, kingfish, and even mako sharks. Relish stunning panoramic views of the Virginia Beach coastline, especially during the vibrant sunsets. 
Indulge in mouthwatering local seafood, including the famous crab cake sandwich at the pier-side restaurant. The Virginia Beach Fishing Pier is more than just a pier – it's a seaside adventure awaiting your arrival. Don't forget your fishing license.
DINING OPTIONS ON THE BOARDWALK
When dining on the Virginia Beach Boardwalk, seafood lovers are in for a treat! This coastal city is renowned for its fresh and delectable seafood options, and plenty of restaurants along the boardwalk cater to this craving.
One famous local summer specialty is the mouthwatering Chesapeake Bay blue crabs, known for their sweet and succulent meat. 
For an authentic taste of this delicacy, head to Rockafeller's Restaurant, where you can enjoy freshly shucked oysters on the half shell or try them cooked in various mouthwatering preparations like Rockefeller-style or chargrilled. 
The restaurant's waterfront location provides a delightful ambiance as you savor these briny delights while taking panoramic views of the Atlantic Ocean.
Local Seafood Specialties and Restaurants Offering Them
Variety of Cuisines Available to Cater to Different Tastes and Dietary Preferences
While seafood takes center stage along the boardwalk, Virginia Beach offers various culinary options to satisfy diverse tastes and dietary preferences. Whether you're craving Italian cuisine or want to indulge in American comfort food, there's something for everyone within walking distance along this stretch of coastline.
Eurasia Cafe & Wine Bar is an excellent choice of restaurants and hotels for those seeking international flavors. This upscale restaurant serves fusion cuisine, combining elements from Europe and Asia while incorporating local ingredients.
From sushi rolls infused with Chesapeake Bay crabmeat to savory European-inspired dishes, you'll embark on a gastronomic journey that will leave you wanting more. Doc Taylor's Restaurant is a must-visit if you want a taste of the South.
This charming eatery serves Southern comfort food classics like fried chicken, shrimp and grits, and homemade biscuits. The cozy atmosphere and friendly staff add to the overall experience as you indulge in flavorful dishes that will warm your heart and satisfy your cravings.
No matter what kind of cuisine tickles your taste buds or dietary preferences, Virginia Beach Boardwalk has many dining options. From high-end restaurants to casual eateries, the culinary scene here ensures that every visitor can find something they love amidst the sea breeze and coastal charm.
DISCOVER A SHOPPERS PARADISE
As you stroll along the vibrant Virginia Beach Boardwalk, prepare for a delightful shopping experience. This bustling promenade is about sun and sand and offers fantastic shopping opportunities.
From chic boutiques and hotels to souvenir shops and oceanfront everything, there is something to cater to every taste and budget. For those seeking unique coastal treasures, visit the local beachwear stores and many restaurants that line the boardwalk.
These galleries showcase works by talented local artists capturing the beauty of Virginia Beach through various mediums such as paintings, sculptures, and photography. Explore these galleries at your own pace and perhaps even bring home a piece that resonates with you.
TREAT YOURSELF IN UNIQUE BOUTIQUES
If you are looking for one-of-a-kind finds or quaint souvenirs for loved ones back home, be sure to explore the eclectic boutiques nestled along the boardwalk. These hidden gems offer an assortment of handmade crafts, trinkets, and local artisanal products.
From hand-painted seashells to exquisite nautical va beach-themed decorations for your home, these boutiques are a treasure trove waiting to be discovered. 
In addition to specialty stores, you will find familiar retail brands in nearby shopping centers conveniently located near the oceanfront and Virginia Beach Boardwalk.
Take a short walk or drive from the boardwalk area and venture into these modern malls to find popular clothing brands, beauty products, electronics, and more. Whether you need a new swimsuit or souvenir t-shirts for the whole family, these malls have got you covered!
Exploring the Virginia Beach Boardwalk is an unforgettable experience. From the sun-kissed sandy beaches to the lively atmosphere, this popular destination offers endless opportunities for relaxation and enjoyment. 
Whether you're splashing in the waves, indulging in delicious seafood, or discovering hidden treasures during shopping sprees, Virginia Beach Boardwalk has something for everyone.
So, gather your loved ones and plan your next getaway to this coastal paradise. Make memories that will last a lifetime as you immerse yourselves in the captivating charm of Virginia Beach Boardwalk.
With its family-friendly activities, mesmerizing views, and vibrant energy, it's no wonder this destination continues to captivate visitors worldwide. Get ready to create stories that will be told for generations to come.