Guide to Fort Worth Rodeo: Where Cowboy Culture Meets Modern Swagger
Hey there, wanderlust warriors and experience-seekers! If you're tired of scrolling through the same old travel content, I have a treat for you. 
Today, we're ditching the cliché sandy beaches and bustling cities for something with more grit and gusto—The Fort Worth Stock Show and Rodeo. 
So, grab your finest pair of cowboy boots because we're taking a deep dive into this Texan spectacle that perfectly marries cowboy culture with modern swagger.
This section features several affiliate links, meaning we'll earn a small commission if you purchase through these links.
FORT WORTH RODEO GROUNDS MAP
FREQUENTLY ASKED QUESTIONS
What does Grounds Admission Cost?
$12 Adults – $6 Youth Ages to 6 to 16 – Children 5 and under are free
Guests may leave the property and return the same day
Are wagons and strollers allowed?
Wagons and strollers are welcomed on the Stock Show grounds. However, they are not allowed in the Coliseum or Auditorium or Dickies Arena during scheduled events.
Strollers and wagons can be checked in the area underneath Pioneer Tower (between Coliseum and Auditorium), or on the east side of Dickies Arena before the rodeo and claimed afterward.

Can I bring a camera?
Cameras are allowed. However there are policies that will be strictly enforced involving certain areas at the venue.
How much is daily parking?
$17 per vehicle

Is there a designated pick-up/drop-off location for ride share?
Ride Share Services Pick Up and Drop Off
• Will Rogers Memorial Center
3400 Will Rogers Road South
• Dickies Arena
Drop off: 1911 Montgomery St. Dickies Way
Pick up: 3596 Harley Ave.
If you want more FAQs hit the button below!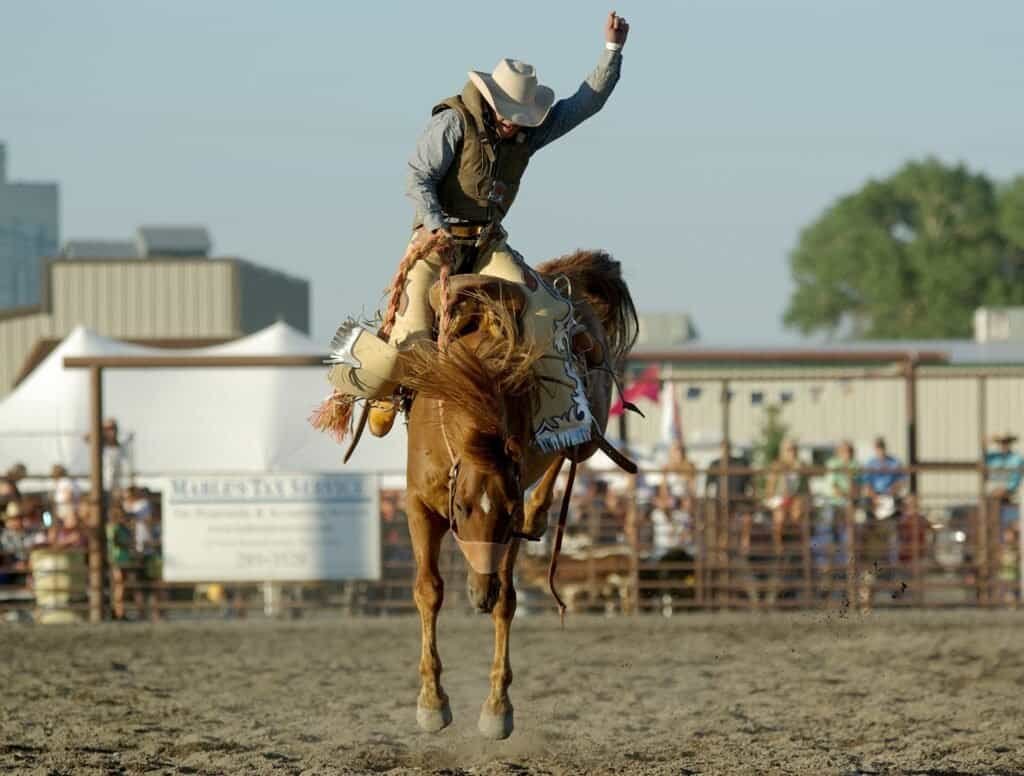 Why Fort Worth Rodeo is a Must-Visit
The Fort Worth Rodeo is where traditional cowboy ethos blends seamlessly with today's youthful energy. 
Forget the stodgy, dusty image of rodeos you've seen in old Westerns; this is a high-octane gathering filled with Instagrammable moments.
Exploring the Cowboy-Chic Aesthetic
From the fashion-forward cowboys and cowgirls to the rustic yet modern setups, you'll be entranced by the unique cowboy-chic aesthetic. 
Whether it's the bespoke leather goods stalls or the artisan cowboy boots, the rodeo offers a refined take on classic Western wear.
While other places offer a sterilized, tourist-friendly version of cowboy culture, Fort Worth gives you the real deal. Here, lassos aren't just props—they're a way of life.
True to its Roots
Even amid electrifying performances and state-of-the-art facilities, the rodeo stays true to its roots. The real-life ranchers and cowboys who participate in the events add a layer of authenticity that's hard to find elsewhere.
LOOKING FOR A PLACE TO STAY CLOSE TO THE FORT WORTH RODEO?
The Livestock Show: More Than Just a Petting Zoo
Petting zoos are great for five-year-olds, but you're not a kid anymore. The livestock show at Fort Worth is like a rock concert for cattle, sheep, and hogs, complete with stage lighting and dramatic entrances.
The Cattle Auction: A Whole New Ball Game
Beyond the entertainment value, the livestock show serves a practical purpose. For instance, the cattle auction allows ranchers and breeders to showcase their livestock to prospective buyers, adding an exciting business dimension to the show.
Nothing says "I've lived" like discussing the finer points of Angus beef over a craft IPA. Plus, it's an excellent educational experience that connects you with the roots of Texan culture.
Educational Seminars: Get Schooled, Cowboy Style
If you're genuinely interested in livestock, take advantage of the educational seminars the show offers. From cattle rearing to sustainable farming, these sessions are informative and engaging.
There are numerous different Livestock Shows as well as Horse shows that you can attend at the Fort Worth Stock Show & Rodeo Venue.
The 2 links above will include detailed information about the daily schedule, general rules and regulations, arrival and release times, animal health regulations, etc.
Rodeo Events You Can't Miss
Bull Riding: The Crowd-Pleaser
You can't visit Fort Worth Rodeo and not watch bull riding. It's the equivalent of going to Paris and ignoring the Eiffel Tower. This adrenaline-pumping event will have you gripping your seat—or your Instagram feed.
The Art and Skill Behind Bull Riding
Each bull riding event culminates years of training and an impressive display of skill. Riders use a combination of strength, balance, and technique to stay atop a bucking bull, making this a must-see spectacle.
TRAVELING TO FORT WORTH?
GREAT!
CHECK OUT An ARTICLE BELOW FOR MORE INFO!
Barrel Racing: Speed and Skill
Who says rodeos are a guy's game? Barrel racing showcases the talent and finesse of female cowgirls as they navigate a tricky course at breakneck speeds.
Women in Rodeo: Breaking Barriers
Barrel racing offers more than just entertainment; it provides a platform for talented female riders to showcase their skills in a traditionally male-dominated environment, breaking barriers along the way.
LOOKING FOR A GREAT DEAL ON THINGS TO DO?
Food and Drink: Cowboy Fuel
Is it even a rodeo without a chili cook-off? Nope. Trust me, you haven't had chili until you've tried a bowl whipped up by a cowboy who's been perfecting his recipe since the age of 10.
The Culinary Arts of the Wild West
The chili cook-off is more than just a competition; it's an exhibition of culinary arts steeped in Western tradition. Various cooks offer unique twists on this classic dish, making it a gastronomic journey worth embarking on.
Sure, beer is fantastic, but have you ever had a local Texan brew while listening to a live country band? Well, at Fort Worth Rodeo, you can.
Craft Beer and Live Music: A Winning Combo
The beer tents are not just about guzzling down a cold one. With live music performances and an array of craft beers, it's an experience that elevates your standard beer tent visit to a whole new level.
LIKE INTERESTING EXPLORATION?
GREAT!
CHECK OUT An ARTICLE BELOW!
Local Attractions Around the Rodeo
Need a break from the excitement? The Fort Worth Water Gardens offer a tranquil escape that's just as visually stunning as the rodeo itself.
A Sanctuary in the Midst of Chaos
Located just a short drive from the rodeo grounds, this architectural marvel offers a peaceful sanctuary, making it the perfect place for some much-needed downtime.
This bustling hub offers a slice of modern Texas with its fine dining establishments, art installations, and boutique stores.
Shop, Dine, Explore
Sundance Square is not merely a shopping center; it's a cultural hub. Whether you're into art, food, or just people-watching, this vibrant area offers something for everyone.
Navigating the Rodeo Like a Pro
Get there early. Not only do you avoid the hordes, but you get first dibs on the best seats, food stalls, and memorabilia.
Early Bird Gets the Rodeo Worm
The gates usually open several hours before the main events. Use this time to explore the various stalls, grab some grub, and even catch some of the smaller events that often get overlooked.
The Fort Worth Rodeo app is your go-to guide for event schedules, maps, and real-time updates. Trust me, it's a lifesaver.
Tech Meets Tradition
Yes, even a traditional event like a rodeo can benefit from technology. The app offers features like GPS navigation around the venue, schedule alerts, and even food stall ratings.
Conclusion: Why Fort Worth Rodeo Should be Your Next Stop
So, what are you waiting for? Get that cowboy hat out of your closet and dust off those boots because the Fort Worth Rodeo offers a cultural experience like no other. 
With its perfect blend of traditional and contemporary, this Texan extravaganza is more than just an event—it's a rite of passage for everybody!