A Comprehensive Guide to Planet Hollywood Las Vegas: Where Hollywood Glamour Meets Sin City's Allure
Casino Planet Hollywood Resort
Ah, Las Vegas, where fortunes are made or lost in a heartbeat and where a mid-week wedding might be the least surprising thing you encounter. If you're between 20 and 35 and looking to inject some glamour into your Vegas adventure, Planet Hollywood Las Vegas might be an excellent location for your stage.
Think of it as Hollywood's vacation home in Sin City. Here, we'll dig deep into this iconic resort casino, uncovering everything that makes it the ultimate adult playground. Sit tight, and let's roll the dice.
A Brief History of Planet Hollywood Las Vegas: The Phoenix Rises from the Ashes
Planet Hollywood Las Vegas is the epitome of reinvention—much like some of Hollywood's brightest stars, who've gone from child actors to Oscar winners or reality T.V. hosts. Let's stroll down this iconic resort's proverbial Walk of Fame, shall we?
From Aladdin to Hollywood Stardom
Initially, the resort was known as the Aladdin Hotel. Now, you might be wondering, "Aladdin? Wasn't he busy with a genie and a flying carpet?" 
While there's no genie, the Aladdin Hotel did conjure up some magic of its own during its heyday. Built-in 1966, it was once famed for hosting Elvis and Priscilla Presley's wedding within hours of opening its doors. 
Unfortunately, just like a modern hotel or a Hollywood starlet caught without makeup, it faced its share of ups and downs.
In the land of eternal youth—or at least botox—facelifts are nothing new. The Aladdin had its share of renovations, tweaks, and complete overhauls. But, in 2007, it went through what we could call its "breakout role." 
It was rebranded and revamped as Planet Hollywood Las Vegas, shifting from an Arabian Nights theme to a more glamour-packed Hollywood aesthetic. It was less' magic lamp' and more 'magic of the silver screen.'
The rebranding was like an A-lister's wardrobe change between dramatic, attention-grabbing, and oh-so-glitzy red-carpet events. 
They didn't just check out everything on the desk, hang up some new curtains, and call it a day; they gave upscale room and the whole place a facelift, body lift, and probably even a soul lift. 
The resort morphed into a tribute to Hollywood, featuring memorabilia from iconic movies, glammed-up poker rooms, and even a few stars etched into the floor so you don't forget where you are.
As for drama, Planet Hollywood Las Vegas has had its share. These walls have seen everything from high-stakes poker games that could fuel a Scorsese film to over-the-top marriage proposals straight out of a Rom-Com. 
If they could talk, you bet they'd be spilling tea worthy of a Hollywood exposé. But for now, they settle for housing the vibrant energy, flair, and extravagance that define Hollywood and Las Vegas wrapped up in one sizzling package.
So there you have it—a dive into the star-studded, drama-filled, ever-changing world of Planet Hollywood Las Vegas. It's not just a resort; it's a living, breathing Hollywood blockbuster in the heart of Sin City.
Why Choose Planet Hollywood? Your One-Stop Paparazzi Playground
If the Las Vegas Strip is a glittering showcase of all things extravagant, then Planet Hollywood is its crown jewel—or at least its Oscar statue. But what makes it the ultimate starlet in a city full of headliners? 
You don't need to be an A-list celebrity to get the red carpet treatment. Here's the extended director's Cut on why Planet Hollywood should be your next Vegas destination.
It's Instagram Gold, Baby
Let's start with the obvious: the 'Gram. Planet Hollywood provides an infinite supply of Instagram-worthy moments in a world driven by likes, retweets, and whatever else validates our choices. 
Imagine stepping into a life-sized Hollywood set where every corner calls for a selfie. We're talking neon signs, over-the-top themed hotel rooms everywhere, and even an occasional celebrity sighting (or cardboard cut-out, but who's checking?). It's a 24/7 photo op, so forget the filters—Planet Hollywood provides its glow.
Assembling three restaurants and a dream team of culinary delights, Planet Hollywood offers food that caters to every taste bud, food allergy, and even post-partying craving you might have. 
Picture this: eating a burger designed by Gordon Ramsay, surrounded by movie memorabilia, or sipping a finely crafted cocktail that could easily feature in a James Bond flick. 
From quick bites to five-star cuisine, this place will make you feel like a judge on a cooking show—no expertise needed.
The Entertainment Universe
If the Avengers were a lineup of Vegas shows, they'd probably assemble at Planet Hollywood. 
With a range of entertainment options that rival the talent density of a Hollywood awards night, you're guaranteed a show (or five) that tickles your fancy. 
Concerts, magic shows, comedy sets—you name it, they've got it. And the best part? You don't need to trudge through L.A. traffic to see celebrities perform.
A Casino That's More Hollywood Than Vegas
Yes, every casino in Vegas offers games. But how many casinos allow you to go on a treasure hunt for Hollywood memorabilia while waiting for your turn casino play at the poker table? 
Imagine hitting the jackpot on a "Titanic slot machine or bluffing through poker beneath a chandelier that once adorned a classic Hollywood movie set. It's like participating in your adventure film, except the treasure can be real cash here.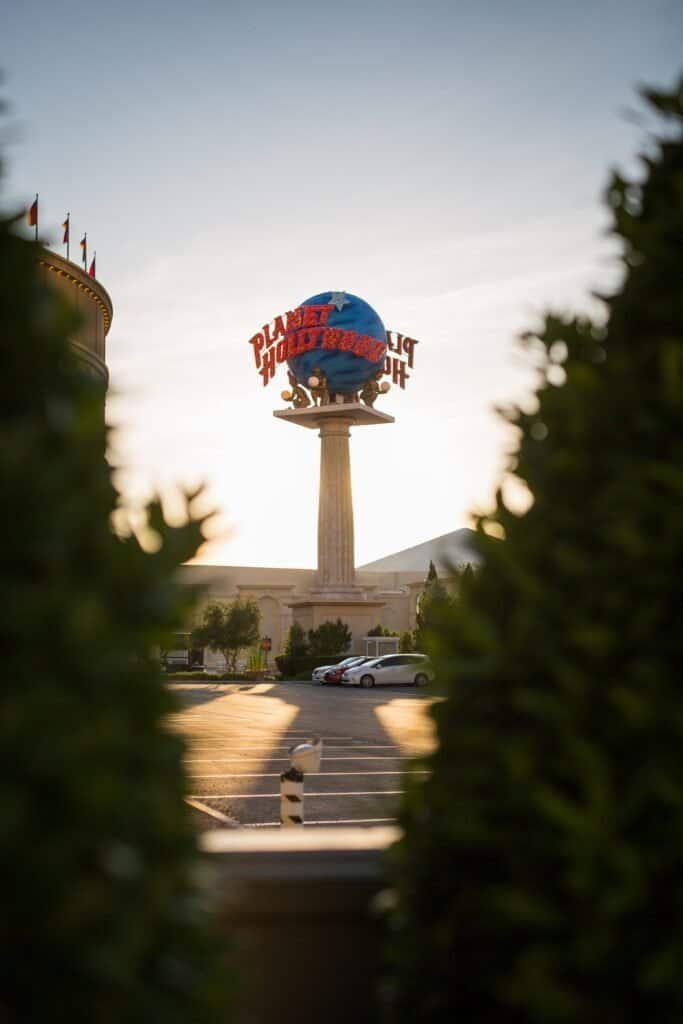 Nightclubs in Planet Hollywood don't just offer hotel guests a place to dance; they provide an entire narrative for an unforgettable night. 
The options are endless, whether you want to take it easy like a rom-com protagonist at a lounge or channel your inner action hero on the dance floor. And let's be honest: any place that makes you feel like the lead in your movie is worth the ticket price.
So, why choose Planet Hollywood? Because it's more than just a lovely hotel or a resort; it's a multi-genre blockbuster where you're the star. 
Whether you're there for the culinary art, the entertainment spectacle, or just for some high-quality, well-lit selfies, Planet Hollywood Las Vegas has rolled out the red carpet just for you. 
Consider it your VIP pass to everything fabulous in Vegas; no superpowers are required.
Rooms and Suites: Oscar-Worthy Accommodations
In a city where opulence is practically a civic duty, Planet Hollywood Las Vegas offers rooms and suites that make you feel less like a tourist and more like a Hollywood sensation. 
Just like the careers of most Hollywood stars, accommodations here come in various phases: from the "rising star" room to the "A-list celebrity." Let's cut to the chase and explore why these rooms are your VIP ticket to a restful yet glamorous stay.
LOOKING TO BOOK A ROOM AT THE PLANET HOLLYWOOD RESORT & CASINO?
One of the first things you'll notice is the view. Whether you're looking out at the neon-drenched Las Vegas Strip or the serene Nevada horizon, the floor-to-ceiling windows act like widescreen lenses that make every gaze outside a Kodak—or, should we say, Instagram—moment. 
Sunsets here aren't just sunsets; they're cinematic finales that conclude your day in a blaze of orange and purple glory.
The Comfort of the Casting Couch, Without the Casting
Let's talk plush bedding. If bed thread counts were movie ratings, these beds would be blockbusters. 
The bed linens are sumptuous, the pillows seem plucked from clouds, and the mattresses are probably made from the same material as a superhero's costume—supportive yet incredibly soft. In other words, these beds don't just support sleep; they practically audition for it.
Minibars: The Real Stars of the Show
Ah, the minibar—a feature that often gets overlooked, like a talented character actor in a superhero flick. Not here. 
Planet Hollywood knows that sometimes your most significant moments of introspection (or indulgence) happen when you're sipping on a well-curated cocktail or munching on gourmet snacks, all within arm's reach. 
It's almost as well-stocked as your Netflix queue, with options that range from top-shelf spirits to artisanal bites.
Choose Your Role: Room Categories
Just as Hollywood offers many roles—lead actor, supporting cast, comic relief—Planet Hollywood's many rooms and various room categories let you choose how big a star you want to be. 
From the simple yet elegant "Hollywood Hip Rooms" to the glorious Panorama Suites, spacious rooms with separate living spaces, there's a setting for every scene of your life's movie.
Technological Marvels: The Special Effects Department
What's a modern Hollywood experience without a bit of tech magic? Each room has state-of-the-art amenities such as giant flat-screen T.V.s, smart control systems for lighting and temperature, and high-speed Wi-Fi. Think of it as your special effects team, ensuring each scene—er, day—is executed flawlessly.
Pet-Friendly: Because Fido's a Star, Too
And let's not forget about your four-legged co-stars. With a pet-friendly policy, Planet Hollywood ensures that even your fur babies enjoy a taste of the high life. 
Complete with specialized pet menus, public parking, and walking services, it's the celebrity treatment for your dog—paparazzi not included.
So when it comes to choosing where to hang your hat (or your feathered costume if you're in town for a themed party), Planet Hollywood's rooms and suites don't just provide a great location and a place to sleep; they offer guests an Oscar-worthy experience that turns any visit into a star-studded affair. Ready for your close-up?
Property Amenities: The Supportive Cast Members of Planet Hollywood Las Vegas
When it comes to the whole Vegas experience, sometimes the "supporting cast" steals the show. At Planet Hollywood, the property amenities are no less than scene-stealers, ensuring that your stay is enjoyable and Oscar-worthy. 
From the expansive pool deck to a spa that would make even Cleopatra jealous, here's why the amenities at Planet Hollywood make it a blockbuster resort.
You will start from the Las Vegas area to the valet parking or directly to the parking garage. 
Las Vegas also shifted the hotels so all customers would pay a resort fee. I have even been at hotels where it was barely considered a Las Vegas Resort but still got slapped with the fee! 
Dive Into Stardom: The Pool Scene
Do you know how every movie has that one iconic water scene? At Planet Hollywood, that's the pool deck. 
Whether you want to sunbathe like you're in a Baywatch audition or sip cocktails as if you're in a Bond movie, the pool area is your outdoor stage. Featuring multiple pools, private cabanas, and even a FlowRider wave machine for surfing, it's both an oasis and a playground.
Pleasure Dome: The Spa by Mandara
If spas had IMDB pages, Spa by Mandara would have a credit list longer than Meryl Streep's. This luxury wellness sanctuary offers many treatments—from Balinese massages to European facials—that are fit for a star. 
And let's not overlook the various saunas, steam rooms, and relaxation lounges that serve as your "green room" for pampering.
Fitness Center: Train Like a Stunt Double
Have you ever wondered how action stars get into superhero shape? Planet Hollywood's state-of-the-art fitness center offers all the equipment you'd need to prepare for your next on-screen (or poolside) appearance.
Open 24/7, it allows you to train on your schedule, whether a pre-dawn jog or a midnight weightlifting session.
Shops: The Costume Department
What's a star without a signature look? The Miracle Mile Shops at Planet Hollywood offer over 200 stores where you can assemble an ensemble worthy of a red-carpet premiere. 
From designer boutiques to quirky souvenir stores, it's a shopping experience as diverse as a Hollywood casting call.
Dining: The Star-Studded Cast of Culinary Delights
Imagine a dining lineup so varied and impressive it could be the ensemble cast of a multi-Oscar-winning film. Planet Hollywood hosts various restaurants ranging from casual eateries like Earl of Sandwich to high-end dining experiences such as Strip House. 
Whether you're looking to grab a quick burger or dine like Hollywood royalty, you have a seat at the table.
Meeting and Event Spaces: Your Soundstage
Whether you're hosting a corporate event that needs to impress or throwing a wedding so extravagant it could be a rom-com climax, Planet Hollywood has the space and the expertise to make it happen. 
Their meeting rooms and event spaces are versatile; the staff is trained to be the crew behind your successful production, and the catering? Let's say it'll earn rave reviews.
Planet Hollywood Theatre: The Main Stage
No Hollywood story is complete without a bit of drama or music. Planet Hollywood Theatre serves as the resort's main stage, hosting concerts, magic shows, and theater productions that feature some of the biggest names in showbiz. 
While staying here, world-class entertainment is just an elevator ride away.
Ultimately, Planet Hollywood Las Vegas goes far beyond the basics to offer a range of amenities that can turn any stay—from a weekend getaway to a business trip—into a blockbuster experience. 
Just like a well-crafted film, the small details and supporting elements elevate the whole production. So why settle for a cameo when you can be the star of your own Vegas story?
Betting in Style: The Red-Carpet Casino
Planet Hollywood's casino is to gamblers what the Oscars are to movie stars: a place to shine. From blackjack and poker to slot machines that pay out in true Hollywood fashion, it's not just another casino; it's your audition for the big leagues. 
Don't forget to check out time back in and check out their sportsbook—if you know the difference between a touchdown and a home run, this casino is your playground.
Are you a foodie who knows your way around a Michelin-star menu or someone who loves a good burger? From Gordon Ramsay Burger's decadence to Koi's spice, you can take your taste buds on a world tour without needing a passport.
Where else can you catch Gwen Stefani and a world-renowned magician on the same night? 
Planet Hollywood offers a roster of shows that rival any Hollywood awards ceremony—except here, you're on the A-list. Buckle up; your Instagram stories are about to get much more interesting.
As the sun sets, Planet Hollywood's nightlife options light up like the check in the opening credits of a blockbuster movie. 
From the Heart Bar's cozy confines to the EXTRA Lounge's electric atmosphere, the night is always young, and the drinks are always flowing.
Location and Accessibility: Location, Location, Location
If Hollywood is where stars are born, then the Las Vegas Strip is where they go to either make it big or enjoy their A-list status. 
And in this galaxy of neon lights and endless entertainment, Planet Hollywood is like the Earth—a central hub from which favorite stars and all things spectacular are easily accessible. 
Its prime location makes it a perfect anchor point for any Vegas adventure.
Just as George Clooney might live next door to Brad Pitt in the Hollywood Hills, Planet Hollywood is located in the star-studded neighborhood of the Las Vegas Strip. 
We're talking stumbling distance from the iconic Bellagio fountains, where you can catch water performances that rival Broadway shows. 
Also, right across the street, you'll find Paris Las Vegas, complete with its own Eiffel Tower. These aren't just landmarks; they're co-stars in your Vegas vacation drama.
LOOKING FOR A GREAT DEAL ON THINGS TO DO?
Las Vegas is known for its walkability—yes, despite the 4-inch heels and endless margaritas. 
From Planet Hollywood, you can stroll down the Strip to catch live street performances, stop by several must-see attractions, and return for a late-night pool, poker game, pool, or show. 
Essentially, the resort offers the epitome of convenience for those who want to drink in (sometimes literally) all that Vegas has to offer.
Reach for the Stars—Or Reach Your Destination
Worried about transportation? Don't be. Whether you want to channel your inner James Bond in a limo or keep it real in an Uber, the transportation options are as varied as a Hollywood filmography. 
Even the Las Vegas Monorail has a nearby stop, making it super easy to zip up the Strip and down the Strip faster than you can say, "Cut! Print it!"
LOOKING TO BOOK A ROOM AT THE PLANET HOLLYWOOD RESORT & CASINO?
Centrally Located, Centrally Entertained
Being in the middle of the Strip doesn't just mean you're surrounded by entertainment but immersed in it. 
Whether catching an impromptu Cirque du Soleil show, trying your luck at a neighboring full casino floor, or enjoying a shopping spree at world-class shopping, the location guarantees that boredom will be as hard to find as a bad seat in the house.
Convenient for Convention Goers
Let's not forget about the business travelers who moonlight as Vegas explorers. Planet Hollywood's central locale makes it convenient for anyone attending events at the Las Vegas Convention Center or other meeting venue. 
After all, even corporate warriors need a little Vegas magic, and Planet Hollywood delivers without compromising practicality.
Accessibility is King (or Queen)
Planet Hollywood has ensured everyone gets VIP treatment by providing upscale rooms throughout the property with excellent accessibility features. 
From ADA-compliant rooms to easily navigable layouts, the resort property is not just centrally located in a geographical sense—it's also centrally located in the universe of universal access.
In summary, Planet Hollywood's stellar location on the Las Vegas Strip ensures that the best of Sin City is at your doorstep—or at least a short, sparkly walk away. It's not just about being in the middle of the action but also the middle of a wide range of choices. 
Whether you're in Vegas to live it up, wine and dine, or close that game-changing business deal, Planet Hollywood puts you where you need to be.
You've read the script; now it's time for action. Planet Hollywood Las Vegas provides a backdrop of endless possibilities. In a city known for going big or going home, this resort is the epitome of 'Why not both?' 
With its prime location, varied offerings, and the sort of Hollywood glitz that makes you feel like a star, Planet Hollywood Las Vegas isn't just a resort; it's the blockbuster experience you've been waiting for. Lights, camera, Vegas!