THE ULTIMATE BEACH DAY PACKING LIST: 13 BEACH ESSENTIALS FOR FUN IN THE SUN
Here are the 13 essential beach items that belong in your packing list for a day at the beach!
From sun protection items to comfort items such as a towel, or games, our beach essentials list ensures you're covered for every beach scenario.
This article may contain affiliate links. We receive compensation if you make a purchase, but it won't cost you anything extra.
Ah, the beach! It truly is a place like no other. The moment your feet touch the soft, warm sand, you're instantly transported to a world where time seems to slow down, where the hustle and bustle of daily life become a distant memory. 
The rustling of the palm trees, the rhythmic ebb and flow of the waves, and the sunlight dancing on the water create this sense of tranquility, this perfect symphony of nature's beauty. 
However, to properly enjoy your day, you must stay organized with a beach essentials list!
Whether you're yearning for a quiet retreat to unwind, an adventurous day of water sports, or perhaps a balance of both, the beach is the perfect backdrop.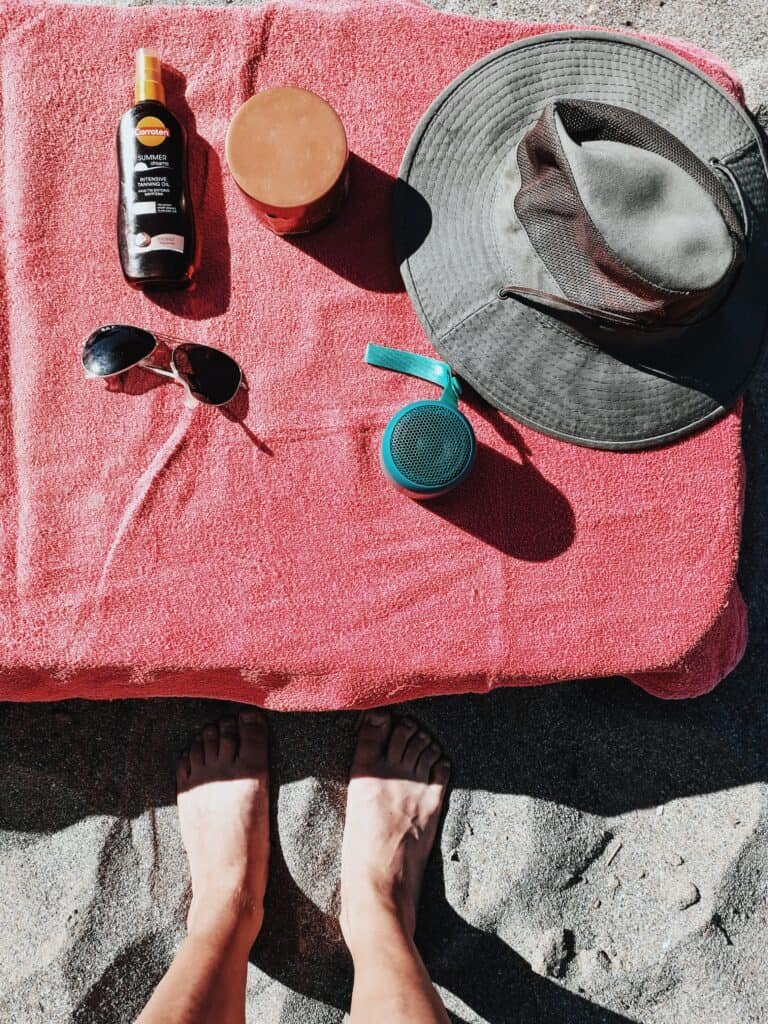 Yet, the preparation is the key to enjoying this picturesque setting to its most entire. 
Imagine realizing you forgot your sunscreen just as you start to feel the sun's intensity or missing the chance to capture the stunning sunset because your phone ran out of battery. These minor oversights can disrupt your idyllic day by the sea.
This is why we've put together this blog post. We want to make sure that your day at the beach is filled with laughter, comfort, and unforgettable memories – not interruptions. 
With this in mind, we've crafted a comprehensive list of 13 beach essentials. We've covered you, from sun protection and comfortable clothing to snacks and entertainment. 
Each item on this list has been carefully considered to ensure your beach day is as delightful and carefree as possible. So, please sit back, relax, and let us guide you through preparing for a day of sun, sand, and sea that will be amazing.
THE NON-NEGOTIABLE NECESSITY OF SUN PROTECTION AT THE BEACH
Dont skip the sun screen on a beach day!
When envisioning a day at the beach, one often thinks of the radiant sun adding a golden glow to everything. 
But, as idyllic as this image may be, the reality of prolonged sun exposure can be harsh. This is why sun protection holds a prime spot in the hierarchy of beach essentials. 
Without proper precautions, the sun can cause not only immediate discomfort in the form of painful sunburns but also long-term skin damage, premature aging, and an increased risk of skin cancer. 
Therefore, a multifaceted approach to sun protection becomes essential to your beach day planning, especially regarding a beach essentials list.
At the forefront of your sun protection arsenal should be high-quality sunscreen. When choosing sunscreen, aim for a broad-spectrum formula. 
This means it will protect against both UVA rays – the aging rays that can lead to long-term skin damage and wrinkles – and UVB rays – the burning rays directly responsible for sunburn.
A sunscreen with an SPF (Sun Protection Factor) of at least 30 is recommended.
 However, the key to effective sunscreen use lies in its application. Apply a generous amount to all exposed areas of your body, and remember to reapply every two hours or more frequently if you've been swimming or sweating.
When I am at the beach with my family, the adults usually prefer using the Neutrogena Sunscreen while the kids use the Coppertone spray. 
While sunscreen plays a vital role, it shouldn't stand alone in your defense against the sun. Adding sun protective gear like a hat and sunglasses into your beach essentials can provide a more comprehensive shield. 
A wide-brimmed hat goes beyond just a fashion statement. It provides extra protection for your face, ears, and neck – areas often overlooked or inadequately covered when applying sunscreen.
Sunglasses, on the other hand, are like sunscreen for your eyes. Extended exposure to the sun's UV rays has been linked to eye damage, including cataracts and macular degeneration. 
By choosing sunglasses that block out 99 to 100% UVA and UVB radiation, you're protecting your eyes while adding a dash of style to your beach attire.
Sun protection, in essence, is not just about ensuring your beach day is free from discomfort. It's about safeguarding your health in the long run. So, the next time you pack for a day by the sea, remember to prioritize sun protection. Your skin and eyes will thank you!
If you want to learn more about the importance of sunscreen, head here! 
TRAVELING ON A BUDGET?
GREAT!
CHECK OUT An ARTICLE BELOW FOR TIPS!
COMFORT IS KEY: WHAT TO WEAR AND BRING FOR RELAXATION
When it comes to spending a day at the beach, comfort is undoubtedly king. This includes everything from what you wear to the items you bring along, each one adding to the ease and pleasure of your seaside experience.
This is why careful consideration of your beach essentials is not just recommended, it's necessary.
First and foremost, your swimwear plays a vital role in your comfort. Whether you're a surfer donning a rash guard or a sunbather in a bikini, having comfortable swimwear can make all the difference in enjoying your time in and out of the water.
The trick is to choose swimwear that not only looks good but also feels good. Remember, confidence is the best outfit you can wear. But the wardrobe considerations don't stop there.
A change of clothes is another one of those beach essentials that can greatly enhance your comfort after a refreshing swim or a water sports session.
Nothing beats the feeling of slipping into a dry, comfy outfit after a day spent in salty water and sandy beaches.
Next in line in your beach essentials should be a beach towel or blanket. These serve a dual purpose. 
Not only are they necessary for drying off after a swim, but they also provide a comfortable spot to lounge, sunbathe, read, or even have a picnic. 
They essentially become your oasis in the vast expanse of the beach. Some beachgoers even prefer beach mats or lightweight, foldable chairs for that added comfort.
Last, but certainly not least, let's talk about footwear. The right kind of shoes are as much a part of your beach essentials as your swimwear or sunscreen. Flip-flops or sandals are the go-to choices for most beach lovers. 
Easy to slip on and off, they are perfect for the beach environment. 
Not to mention, they save your feet from the hot sand and keep you comfortable whether you're taking a stroll along the shoreline or exploring nearby rocky terrains.
So there you have it! The next time you plan a beach day, keep these comfort-focused beach essentials in mind. 
Remember, a day at the beach is all about relaxation and enjoyment, and the right gear can make all the difference. So pack wisely and don't forget to enjoy the waves!
HYDRATION AND NUTRITION: QUENCHING YOUR THIRST AND SATIATING YOUR HUNGER AT THE BEACH
A day at the beach, while brimming with fun and relaxation, can be physically demanding. 
The combination of the hot sun, the salty sea, and the sand can drain your body's fluids, leaving you thirsty and, if not addressed, potentially dehydrated. 
Hydration is, therefore, not just important, it's essential. Water becomes your best friend on any beach outing. It's a vital component of your beach essentials and should be at the top of your beach packing list.
Investing in a reusable water bottle is a smart move. Not only does it provide a constant supply of water, but it also keeps your drinks cool despite the soaring temperatures. 
Plus, you're doing your bit for the environment by reducing plastic waste – a win-win situation. 
For those who enjoy a bit of flavor, infusing your water with fresh fruits like lemon, cucumber, or berries can make hydration more enjoyable.
I typically use a Yeti cooler to keep my drinks cold or my coffee hot when I am at the beach!
Regarding beach nutrition, packable and non-perishable snacks are your go-to. Fresh fruits, such as grapes, apple slices, or watermelon chunks, serve as a refreshing snack, providing natural sugars for a quick energy boost and aiding in hydration. They're easy to pack and eat and the perfect remedy for a hot day.
But let's not forget about the importance of maintaining energy levels. Energy bars, sandwiches, or wraps make for an excellent beach lunch. They're portable, delicious, and provide the nutrients to keep you going. 
If you prefer something lighter, nuts and seeds are a great option. They're packed with healthy fats and protein, keeping your hunger at bay until it's time for a meal.
While packing your snacks, remember to store them properly. Insulated coolers such as the Yeti or bags can help keep your food fresh and prevent it from spoiling in the heat. 
Don't forget that seagulls and other beach wildlife can be opportunistic, so keep your food covered to avoid unwanted attention.
Or, If the Yeti is too expensive for your tastes, I have put another option below that is fantastic for mobility and can hold quite a bit of items and keep them cold for most of the day!
By taking care of your hydration and nutrition needs, you're setting the stage for a beach day that's enjoyable, energizing, and healthy. 
After all, caring for our bodies is just as important as caring for our planet. So, on your next beach outing, remember to pack your water and snacks. Your body (and the environment) will thank you.
BEACH ESSENTIALS: BALANCING ENTERTAINMENT AND CONVENIENCE FOR THE PERFECT BEACH DAY
Fun and engaging beach games!
A day at the beach is synonymous with fun, relaxation, and the creation of precious memories. 
Packing the right mix of entertainment and convenience items is vital to maximize your beach day. 
These beach essentials ensure that your time at the beach is as enjoyable as possible, catering to the needs of all age groups and preferences.
When it comes to beach entertainment, the possibilities are nearly endless. For those who enjoy active games, classic beach items like a beach ball, a frisbee, or a volleyball can offer hours of fun. 
These games are not only entertaining, but they also provide a great way to stay active and engage with others. 
If you're with kids, a bucket and shovel are indispensable. This simple duo can spark creativity and keep the little ones entertained for hours as they build sandcastles, dig for treasure, or explore the texture and movement of the sand.
The most popular games I have seen on the beach are Bottle Bash and Spikeball! Both games will keep you entertained no matter what age you are!
Remember to relax when you are at the beach
But a beach day isn't all about constant activity. Often, the quiet moments of relaxation become the most memorable. For those who enjoy a slower pace, a beach umbrella or tent is an excellent addition to your beach essentials list. 
These provide much-needed relief from the sun, creating a shady oasis where you can escape the heat, enjoy a good book, or even nap to the soothing sound of the waves. 
They're also perfect for setting up a picnic, providing a sheltered space to enjoy snacks without worrying about overheating.
In our digital age, smartphones have become an extension of ourselves, keeping us connected, capturing precious moments, and providing entertainment.
However, the beach environment can be a hazard for these valuable devices. Sand can scratch screens, and water can cause irreparable damage. 
Enter the waterproof phone case – a simple yet effective solution. This protective case shields your phone from the elements, allowing you to use it worry-free. 
Whether capturing photos, checking messages, or using it for entertainment, a waterproof case allows you to use your phone without risking damage.
Ultimately, the beauty of a beach day lies in its versatility. It can be whatever you want it to be – active, relaxing, or a bit of both. 
Packaging the right mix of entertainment and convenience items sets the stage for a beach day tailored perfectly to your preferences. So, grab your beach bag and start packing – a day of sun, sand, and surf awaits!
A day at the beach wouldn't be complete without some fun and games. Whether you prefer a classic beach ball, a frisbee, or a game of beach volleyball, there are countless beach games to choose from. 
A bucket and shovel can provide hours of entertainment for the little ones.
A beach umbrella or tent is an excellent investment for those who prefer to relax. These provide a break from the sun when needed, offering a shady retreat where you can relax and cool down. 
They're also great for setting up a picnic or just for taking a nap by the sea. 
The gear I have included below is an umbrella that acts as an impromptu tent and a pop-up beach tent that uses the sand to weigh it down so that you don't have to carry weights to the beach.
In this era of smartphones, many of us can't imagine a day without our devices, even at the beach. But the combination of sand, water, and expensive electronics can be risky. 
A waterproof phone case is one of our recommended beach essentials. It provides an extra layer of protection to use your phone without worry.
IF YOU ARENT TRYING TO RELAX HIT THE IMAGE BELOW AND LETS GET SOME GREAT DEALS ON THINGS TO DO!
PACKING IT ALL: CHOOSING AND ORGANIZING THE PERFECT BEACH BAG
A day at the beach means having many beach essentials at your disposal – from sunscreen and water bottles to beach towels and snacks. 
To comfortably carry all these items, the importance of a good beach bag cannot be overstated. However, not just any bag cuts a beach bag. It must be thoughtfully chosen and cleverly packed to ensure a hassle-free beach day.
When selecting a beach bag, there are a few key features to consider. Firstly, it should be spacious enough to hold all your beach essentials comfortably. You don't want to juggle multiple bags when you could be frolicking in the waves. 
The material of the bag is another crucial factor. It should ideally be durable, water-resistant, and easy to clean. 
Beach trips often involve a mix of sand, water, and sunscreen – a combination that can be messy. Hence, a bag that can be easily wiped clean or machine-washed is an excellent choice.
The organization is another aspect where a good beach bag shines. Look for one with multiple compartments or pockets. This helps segregate your items, making them easier to locate when needed. 
For instance, an exterior pocket is a perfect place to store sunscreen for quick reapplications throughout the day. If you need more assistance with packing, we have an essential guide to packing for local trips guide!
When it comes to packing your beach bag, there's an art to it. Start by placing the items you'll use least at the bottom of the bag. This could be your change of clothes or additional snacks.
On top of these, pack items that you'll use more frequently, like your beach towel, book, or swim goggles.
 Finally, place the items you'll need to access frequently, such as sunscreen, water bottle, and snacks, at the top or in exterior pockets. 
This way, you can quickly grab what you need without rummaging through your bag.
Consider using smaller pouches or zip-lock bags to keep smaller items like keys, phones, and wallets secure and easy to locate. 
They prevent these items from getting lost in the depths of your bag and provide an extra layer of protection against sand and water.
Your beach bag is the command center for your beach outing. A well-chosen and well-organized bag can make your beach day smoother and more enjoyable. 
So, take the time to choose the right one, pack it carefully, and then all that's left is to hit the beach and soak up the sun!
LIKE INTEReSTING EXPLORATION?
GREAT!
CHECK OUT An ARTICLE BELOW!
ULTIMATE BEACH ESSENTIALS LIST CONCLUSION
There you have it, your ultimate beach day packing list featuring 13 essential beach items for a fun and relaxing day by the sea. 
With this list in hand, you can focus less on what you might have forgotten and more on the sound of the waves, the warmth of the sun, and the joy of a day at the beach.
Remember, the key to a successful beach day is preparation. So, the next time you plan a beach trip, make sure to refer to this list of beach essentials. 
And if you find yourself on the sand, feeling the sun on your skin, and realizing you have everything you need, you'll know your preparation paid off.
Now it's your turn. What are your beach essentials? Is there anything you can't imagine a beach day without? Share your thoughts in the comments below. We love hearing from our readers and learning from their experiences.
And if you found this beach packing list helpful, be sure to explore our other posts. We cover everything from travel tips to destination guides, always intending to help you make the most of your travel experiences. 
Now that you have all the essentials know when you want to visit Virginia Beach! Remember, 'travel smart, travel far, and travel often.' Safe travels, and see you at the beach!