Unveiling the Aquatic Marvels: A Journey into the Enchanting Virginia Beach Aquarium
Virginia Aquarium: A Coastal Haven for Marine Enthusiasts and Conservationists Alike
Nestled along the picturesque shores of Virginia Beach, one of Virginia's Best Aquariums stands as a beacon of wonder, excitement, and education for visitors from far and wide. 
As one of the premier aquariums on the East Coast, this remarkable institution offers an immersive experience that takes you on a captivating journey into the ocean's depths and showcases the diverse marine life that inhabits our planet's vast waters.
PLANNING A VIRGINIA BEACH AQUARIUM TRIP
When planning a trip to the Virginia Aquarium & Marine Science Center in Virginia Beach, there are several factors to consider to ensure a pleasant and informative experience:
1. Hours of Operation: Open Daily from 9:00am – 6:00pm. Closed Thanksgiving and Christmas Day. 
2. Tickets and Pricing: Adult Pricing is $29.95 – Senior (65+) is $24.95 – Youth ( 5 – 17 ) is $24.95 – Children (0-4) are free but you still need to get a ticket for the reservation! 
Military Members get $2.00 off Adult and Youth rates. 
3. Special Exhibits and Events: Research any special exhibits, events, or interactive experiences that may be happening during your visit. This can enhance your experience and provide unique learning opportunities about marine life.
4. Aquarium Layout: Familiarize yourself with the aquarium layout to plan your route and visit all the exhibits that interest you. The map is above. 
5. Dining Options: Inside the aquarium there is a Mermaid Bay Cafe. Click here to see the menu.
6. Accessibility: If you or anyone in your group has mobility issues or other special needs, check the Aquarium accessibility information to ensure a comfortable visit.
7. Gift Shop: If you plan to purchase souvenirs, spend time and money visiting the gift shop.
8. Parking and Transportation: From April through October parking is $5 per vehicle daily. From November through March parking is free. 
9. Photography Rules: Some aquariums may restrict flash photography or specific areas where photos are not allowed. Be aware of the rules to avoid any disruptions during your visit.
10. Clothing and Comfort: Wear comfortable clothing and shoes, as you will likely walk and stand for a few hours. Also, aquariums can sometimes be chilly, so consider bringing a light jacket or sweater.
11. Conservation Initiatives: If you're interested in marine conservation, look into any programs or initiatives the aquariuAquariumts and how you can get involved.
12. Group Discounts: If visiting a large group or school, check if the aquarium group discounts.
Remember that the Virginia Aquarium & Marine Science Center is a popular destination, so that it may be crowded during peak times or holidays.
Consider visiting during off-peak hours or weekdays for a quieter experience. And most importantly, have fun and enjoy the opportunity to learn about marine life and the importance of conservation!
Location and General Overview
Situated just minutes from the dazzling Atlantic Ocean, the Virginia Aquarium boasts a prime location that allows visitors to appreciate its captivating exhibits and the breathtaking natural beauty surrounding it. 
The facility covers an expansive area, encompassing both indoor and outdoor pavilions that provide an array of experiences for patrons of all ages.
Upon arrival, guests are greeted by striking modern architecture seamlessly blending with its coastal surroundings. 
With its sleek lines and large glass windows, the building offers glimpses into what lies within—a world teeming with unique marine creatures and fascinating displays crafted with utmost care.
The Importance of Aquariums in Promoting Marine Conservation
Aquariums play a vital role in promoting awareness about marine conservation by providing educational platforms for visitors to learn about fragile ecosystems and endangered species. 
The Virginia Aquarium is no exception—it is a powerful catalyst to support conservation efforts, inspiring individuals to support conservation efforts and develop a deeper understanding of our oceans' magnificence while fostering a sense of responsibility toward their protection.
This Virginia aquarium instills a profound appreciation for marine life through interactive exhibits, informative presentations by knowledgeable staff members and volunteers, and engaging programs tailored to various age groups. 
By immersing visitors in an environment brimming with diverse species—from whales to magnificent sharks to delicate seahorses—the Aquarium empathy towards these creatures while highlighting the pressing need for conservation efforts.
Moreover, the Virginia Aquarium actively participates in vital research and conservation initiatives.
 Collaborating with scientists, government agencies, and other best aquariums nationwide contributes to scientific discoveries and supports critical projects to safeguard vulnerable marine populations and protect their habitats.
In essence, the Virginia Aquarium serves as a gateway to the oceans' wonders while championing the cause of marine conservation. It offers a mesmerizing adventure and empowers individuals to become stewards of the fragile aquatic ecosystems that sustain life on our planet.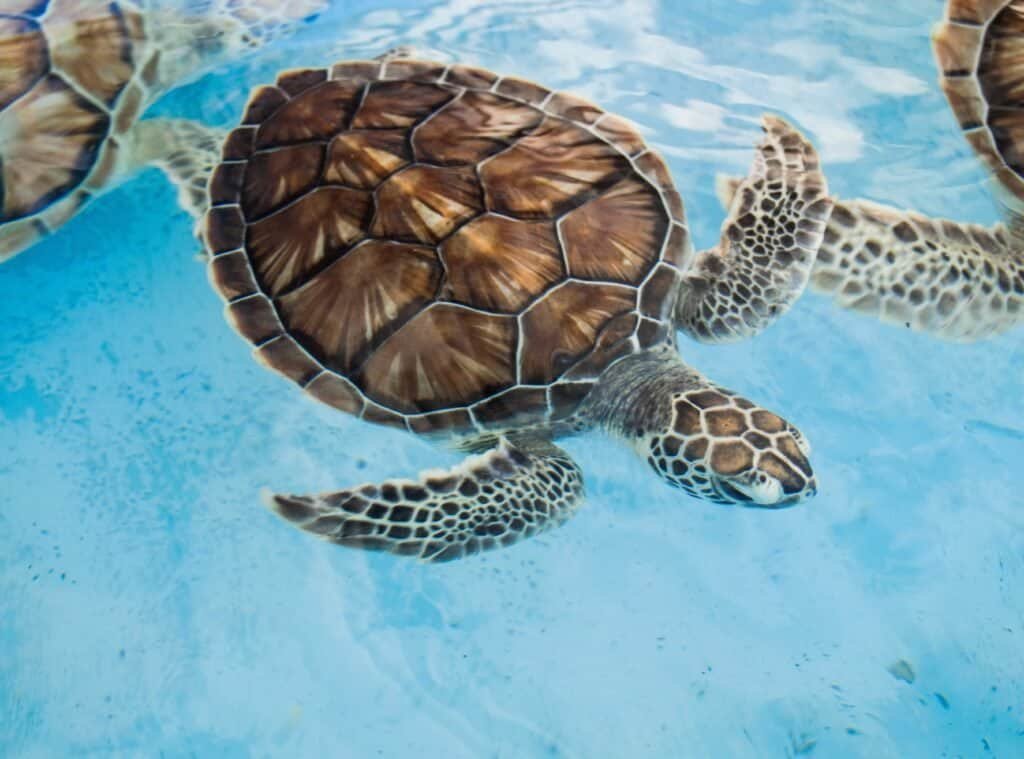 The Birth of a Marine Marvel: A Vision Come to Life
Like the ebb and flow of the tides, the Virginia Aquarium has a fascinating history that takes us back to its humble beginnings. Established in 1986, this magnificent aquatic wonderland was born from visionary minds who saw the potential of an aquarium in this coastal paradise. Their goal?
To create a place where people could connect with marine life while fostering a deeper understanding and appreciation for our vast oceans. In its early days, the Virginia Beach Aquarium consisted of modest exhibits housed in a small facility.
But as time passed and visitor numbers soared, it became clear that expansion was necessary to accommodate patrons' growing interest, excitement, and demands. 
The Aquarium team worked tirelessly to create an environment that would captivate visitors and immerse them in an awe-inspiring underwater world.
From Humble Beginnings to Spectacular Exhibits
Over the years, the Virginia Beach Aquarium has undergone a remarkable transformation, evolving into one of the finest marine educational institutions on the East Coast. 
With its success, each passing year came new exhibits designed to showcase different aspects of marine life.
One notable addition was the iconic Shark Tank, which opened its jaws to visitors in 1992. This impressive exhibit introduced guests to various shark species, including majestic sand tiger sharks gracefully navigating their watery realm. 
The Shark Tank quickly became one of the most popular attractions at the Virginia Aquarium Marine Science exhibit.
An Ever-Evolving Underwater Wonderland
The Virginia Aquarium continued its mission to innovate and enhance its facilities to stay at the forefront of marine education and family entertainment. Interactive touch pools were introduced, inviting visitors to gently caress the velvety skin of a stingray or observe the prehistoric beauty of horseshoe crabs up close. 
These hands-on experiences delighted guests and fostered a deeper connection to marine life and a sense of responsibility toward its conservation.
Beyond exhibits, the leadership team of the Aquarium also recognized the importance of investing in research and support for conservation initiatives. 
It established partnerships with renowned organizations dedicated to protecting our oceans, fostering collaborative efforts to safeguard marine ecosystems for future generations.
From its modest beginnings as an ambitious vision to its current status as a world-class educational institution, the Virginia Aquarium is a testament to human curiosity and our innate desire to explore the mysteries hidden beneath the ocean's surface. 
As we embark on our underwater adventure within the safety of these walls, it's impossible not to be inspired by this journey – one that speaks volumes about our capacity for growth and evolution in harmony with nature.
Main Attractions at Virginia Beach Aquarium
Ocean Pavilion: Exploring the Wonders of the Deep Sea
Dive into a heart-racing adventure park of memories and explore the mesmerizing world of the deep sea as you step into the Ocean Pavilion at the Virginia Beach Aquarium Marine Science Center.
This section is a treasure trove for marine enthusiasts, offering a glimpse into the mysterious underwater realm that covers more than 70% of our planet.
One of its crown jewels is undoubtedly the awe-inspiring Shark Tank, which showcases various shark species, including the magnificent sand tiger sharks. As you stand in front of this massive tank, your heart will skip a beat as you witness these majestic creatures gracefully glide through the water.
Their powerful presence and sleek movements leave an indelible impression on visitors, filling them with admiration and intrigue. Moving on from these apex predators, prepare yourself to be transported to another world entirely – that of colorful coral reefs.
The Coral Reef Exhibit within the Ocean Pavilion immerses visitors in an enchanting display of vibrant coral formations and diverse marine life that calls these reefs home. As you stroll along this exhibit, you'll find yourself surrounded by vivid hues and intricate structures corals create.
For those craving hands-on experiences with fascinating creatures, don't miss out on visiting the Touch Pools in the Ocean Pavilion. Here you can interact with gentle stingrays gliding effortlessly through shallow waters, horseshoe crabs scuttling, and their unique prehistoric appearance.
Get up close and personal with these intriguing and unique animals as knowledgeable staff guides you through safe yet unforgettable encounters.
Feel your fingertips brush against their smooth skin while learning about their importance in marine ecosystems – a truly memorable experience connecting you to the ocean's wonders.
Marsh Pavilion: Amazing Animals Representing Hundreds
Step into the Marsh Pavilion at the Virginia Aquarium and journey through the captivating coastal habitats surrounding this diverse region. As you enter, your senses are immediately aroused by the symphony of bird songs echoing through the air.
Prepare to be amazed as you observe various coastal bird species in their natural habitat within you visit the Coastal Aviary. Elegant herons gracefully wade through shallow waters while busy sandpipers scurry along sandy shores in search of tiny morsels.
With each fluttering wing and melodic call, you gain a deeper appreciation for these magnificent creatures that rely on these fragile ecosystems—continuing your wildlife exploration tour along the Marsh Walkway – a recreated marsh ecosystem filled with native plants and animals.
The boardwalk guides you through this enchanting landscape, allowing you to immerse yourself fully in its unique beauty. Take your time to absorb every detail – from vibrant green grasses swaying in gentle breezes to delicate marsh flowers blooming brightly amidst shimmering waters.
These exhibits offer insight into how these vital coastal habitats function and educate visitors about their importance in maintaining biodiversity and protecting the marine environment against erosion. Engage with interactive displays illustrating how different species coexist within this delicate ecosystem, highlighting the intricate web of life where each organism plays a crucial role.
Virginia Aquarium's Ocean Pavilion immerses visitors in mesmerizing deep-sea wonders featuring shark encounters, vibrant coral reefs, and fascinating touch pools. Meanwhile, the Marsh Pavilion highlights the beauty of coastal habitats, allowing exploration of an aviary filled with diverse bird species, a serene marsh walkway, and interactive exhibits showcasing the significance of marsh ecology.
Each section offers a fresh and unique experience unveiling the intricate tapestry of life within our oceans and along our coastlines. So, wander through these captivating exhibits and let the Virginia Aquarium Marine Science experience transport you to a world where nature's marvels come alive.
Educational Programs at Virginia Aquarium
Marine Science Center Academy: Immersing Students in the Wonders of Marine Biology
Regarding fostering a love for marine biology and providing immersive learning experiences, the Virginia Aquarium Marine Science Center stands as a beacon of excellence. 
This program is tailored for students passionate about marine life and wanting to deepen their understanding of the oceanic realm. The Marine Science Academy offers an unparalleled educational journey from hands-on activities to interactive lectures.
The academy's curriculum covers various aspects of marine biology, exposing young students to oceanography, aquatic ecology, and conservation topics. Students comprehensively understand these subjects through engaging classroom sessions led by experienced instructors.
However, what truly sets this program apart are the field trips and practical experiences that take learning beyond textbooks. Students can embark on exciting field expeditions aboard research vessels or participate in beach clean-up initiatives promoting their safety and environmental stewardship.
Promoting Environmental Awareness through Interactive Workshops
Beyond its renowned Aquarium Marine Science Center Academy, this Aquarium offers a range of interactive workshops designed to engage visitors of all ages in learning about marine conservation.
These workshops cover diverse topics such as plastic pollution reduction, sustainable fishing practices, and climate change's impact on coastal ecosystems. Visitors can dive deep into these subjects through engaging presentations by knowledgeable educators who bring complex concepts to life in a relatable and fun manner.
Interactive demonstrations allow participants to grasp scientific principles while having fun. For instance, one workshop might involve dissecting fish specimens to better understand their anatomy and adaptations for survival.
We delve into the educational programs offered by the Virginia Aquarium and how they can positively affect kids and adults. It becomes evident that this institution is not just a place for entertainment but a catalyst for learning, exploration, and change. 
The Virginia Aquarium Marine Science Center Academy immerses students in a world of wonder and discovery, igniting their passion for marine biology while equipping them with invaluable knowledge and skills.
Moreover, through interactive workshops aimed at visitors of all ages, the AquariuAquariums environmental awareness and empowers individuals to become champions in support of marine conservation. 
The Virginia Aquarium Marine Science Center plays a vital role in building a sustainable future by educating current and future generations about the importance of preserving our oceans.
So, whether you're a student yearning to dive into marine biology or simply an ocean enthusiast seeking to deepen your understanding of our planet's fragile ecosystems, visit the Virginia Aquarium Marine Science Center offers endless opportunities for education, inspiration, and hope.
Let us embrace these programs as stepping stones towards creating a better world where humans coexist harmoniously with all creatures beneath the waves.