Visiting the Virginia Beach Amphitheater: Ultimate Guide
The Virginia Beach Amphitheater, the Veterans United Home Loans Amphitheater, is a premier outdoor concert venue with a unique live music experience. Whether you're a local or a visitor to the area, this venue is a must-visit destination.
This theater used to be known as the Farm Bureau Live.
If you want to check out the upcoming events link click the button below. 
To make the most of your visit, follow our top tips and tricks for a seamless and enjoyable experience.
Veterans United Home Loans Amphitheater FAQ
Can I bring water into Virginia Beach Amphitheater?
You can bring up to 1 gallon of factory-sealed water or an empty bottle.
Do you have to pay for parking at the Virginia Beach Amphitheater?
No. The tickets purchased for the shows include parking fees. The amphitheater also has five parking lots. Also, you can purchase preferred parking for $30 – $50 a space. The paid-for parking will get you a better lot with closer access to the venue.
Is tailgating allowed at Veterans United Home Loans Amphitheater?
Tailgating is not allowed at the theater.
Can you camp or overnight park at the theater?
There is no camping or overnight parking permitted at the Home Loans Amphitheater
What is the capacity of the Veterans United Home Loans Amphitheater?
The maximum seating capacity is 20,000 feet.
What time do the gates open at Veterans United Home Loans Amphitheater?
Depending on the showtime, the Veterans United Home Loans Amphitheater gates can open up to 2 hours before showtime.
Where is the rideshare location at Veterans United Home Loans Amphitheater?
The drop-off and pick-up area for the Veterans United Home Loans Amphitheater is at the main entrance near the dam neck road entrance.
What does the VIP Club access include?
The VIP Club Access at the Veterans United Home Loans Amphitheater features 3 full-service bars, wait staff, air-conditioned restrooms, VIP Parking with an entrance and exit to the concert, and a top-of-the-range dining setting. 
I know this sounds like it should be simple but before heading to the theater, check the event schedule online. From concerts to festivals, the venue hosts various performances throughout the year. 
Plan your visit around an evening event that aligns with your musical interests.
Arriving at the doors early is crucial, especially if attending a popular event. This will give you ample time to find parking, go through security, and settle in your seats before the show starts.
Navigating Parking and Transportation
Choose Your Parking Option
The theater offers several parking options, including general, premium, and VIP, with parking lots open everywhere. Select the option that suits you best, depending on the location, budget, and preferences. Make sure to follow the parking guidelines and display any necessary permits.
Plan Your Post-Event Route
Traffic can be heavy after events, so be prepared for delays when leaving the venue. Have a post-concert plan for dining or entertainment to give traffic and parking lots enough time to disperse, or consider alternate routes to avoid congestion.
Photo Credit to Kevin Sell
Dress for Comfort and Protection
The outdoor setting of the arena means you'll be exposed to the elements. Wear comfortable, weather-appropriate clothing, and bring a hat, sunglasses, and sunscreen to protect yourself from the sun.
Bring a water bottle to stay hydrated throughout the event, especially during hot and humid days. The venue also has concession stands with two main seating areas to purchase food and beverages.
Enhance Your Seating Experience
Bring Lawn Chairs or Blankets
If you have a lawn area for your main seating areas, consider bringing your seating options, such as lawn chairs or blankets. Check the venue's guidelines for allowable chair types and sizes to ensure compliance.
Consider Hearing Protection
Outdoor concerts can be loud, particularly if you sit close to the sound of the main stage itself. If you're concerned about your hearing, bring earplugs or noise-canceling headphones.
Familiarize yourself with the venue's policies regarding prohibited items, bag restrictions, re-entry, smoking, and other rules. Adhering to these policies will help ensure a smooth and enjoyable experience for everyone.
If you bring a sign or a canopy to this VA based theater, ensure you are responsible during the many events! 
Staying aware of your surroundings and prioritizing your safety is essential in any crowded setting. Keep your belongings secure, and if you see any suspicious activity, report it to security personnel.
With these tips and tricks in mind, you're well-equipped for an unforgettable experience at the Virginia Beach Amphitheater. Whether you're a seasoned concertgoer or a first-time visitor, following these guidelines will help you make the most of your visit to this iconic venue.
Bring a Camera or Smartphone
Don't forget to bring your camera or smartphone to capture event memories. Share your favorite moments with friends on social media, and relive the experience later by browsing through your photos and videos.
Respect Artist and Venue Policies
However, respecting the artist's and venue's photography and recording policies is essential. Some artists may request that attendees refrain from taking photos or videos during the performance, and it's crucial to honor these wishes.
Take pictures without flash to avoid distracting the performers and other attendees when cameras are allowed. Each show will be different, and the specific artist may not let you bring in a mobile phone. Check the box office for details. If the artist is on a world tour, there should be ample information on if they allow cameras in the event. 
PREPARE FOR WEATHER VARIABILITY
Before heading to the theater, check the weather forecast. Since the venue is outdoors, your experience may be affected by rain, wind, or extreme temperatures. Be prepared with rain gear, umbrellas, or extra layers as needed.
Plan for Weather-Related Changes
Keep in mind that the event schedule may change due to inclement weather. Some venues and performances may be delayed, rescheduled, or even canceled if the weather conditions are unsafe for attendees or performers. Check the venue's social media accounts or website for any last-minute updates on show dates or weather-related changes.
Make the Most of On-Site Amenities
Explore Concessions and Merchandise
While at the theater, take advantage of the available concession stands and merchandise booths. Sample the variety of food and beverage options and consider purchasing artist merchandise to remember the experience and support your favorite performers.
Enjoy Pre-Show Activities
Depending on the event, the venue may offer pre-show activities and entertainment for attendees. Arrive early to participate in these activities, meet fellow fans, and enter the event's spirit before the main performance begins.
Share your favorite moments from the event on social media platforms like Instagram, Twitter, or Facebook. Use the event's official hashtags one night and tag the artists and venue in your posts to connect with fellow fans and contribute to the online conversation about the event.
Consider writing a review of your experience at the Virginia Beach Amphitheater. Share your thoughts on the performance, venue amenities, and overall atmosphere. Your feedback can help others plan their visit and provide valuable insights into the venue and performers.
In conclusion, visiting the Virginia Beach Amphitheater is a memorable experience that offers the chance to enjoy live music in a beautiful outdoor setting. By following our tips and tricks, you'll be well-prepared to make the most of your visit and create lasting memories. Whether you're attending a concert, festival, or other performance, the theater will surely provide a unique and unforgettable experience.
Connect and Network at the Veterans United Home Loans Theater
Meeting fellow fans is one of the most beautiful parts of attending live events. Strike conversations with those near you, or connect in line at concession stands. Sharing thoughts and reactions can enhance your overall experience.
Many artists have official fan clubs or groups that host special events, meet-ups, or pre-show parties for members. Joining these groups can provide exclusive access to unique experiences and be a great way to meet dedicated fans like yourself.
STAY INFORMED AND UPDATED
Consider subscribing to the Virginia Beach Amphitheater's official newsletter. It can update you on upcoming events, tickets, exclusive pre-sale codes, and special ticket promotions.
If the amphitheater has an official app, it might be worth downloading. These apps often provide real-time updates on events, parking information, venue maps, and more. 
Consider Upgrades at the United Home Loans Amphitheater
For an even more memorable experience, look into VIP packages or premium seating options. These packages can offer better views, exclusive merchandise, early entry, and sometimes even meet-and-greet opportunities with the artists.
Some events may offer ticket prices, food, and drink packages for an all-inclusive experience. This can be especially worthwhile if you plan to indulge during the show.
Respect and Courtesy Go a Long Way
While it's easy to get carried away in the excitement of a live performance, always be respectful of those around you. Avoid obstructing views, keep noise to a minimum during performances, and be courteous when moving in and out of seating areas.
To maintain the beauty of the amphitheater and make the experience pleasant for everyone, remember to clean up your seat and area. Dispose of trash in provided bins and recycle when possible.
In wrapping up, the Virginia Beach Amphitheater is more than just a venue; it's a space where music lovers come together to celebrate, enjoy, and create memories. By being well-prepared and considerate, you'll enhance your experience and contribute positively to the experiences of others around you. Whether you're a first-timer or a regular attendee, every visit offers a new opportunity to immerse yourself in the magic of live music.
KEEP ACCESSIBILITY IN MIND
Accomodations for Special Needs
The Virginia Beach Amphitheater offers accommodations for attendees with special needs. Contact the venue in advance if you or someone you're attending has any accessibility requirements. This will ensure that appropriate arrangements are made to enhance your experience.
Guide and Service Animals
If you require a guide or service animal, check the venue or facility's policies and inform them in advance. The amphitheater or facility is typically accommodating of these needs.
Enhance Your music appreciation
Research the Artists
Take some time to research the artists performing on the day of your visit. Listen to their music, read up on their background, and understand their musical influences. This will enhance your appreciation for the performance.
Experience Different Genres
The amphitheater hosts a diverse range of musical genres. Step out of your comfort zone and experience a genre you might not typically listen to. It could be a refreshing change and even introduce you to a new favorite artist.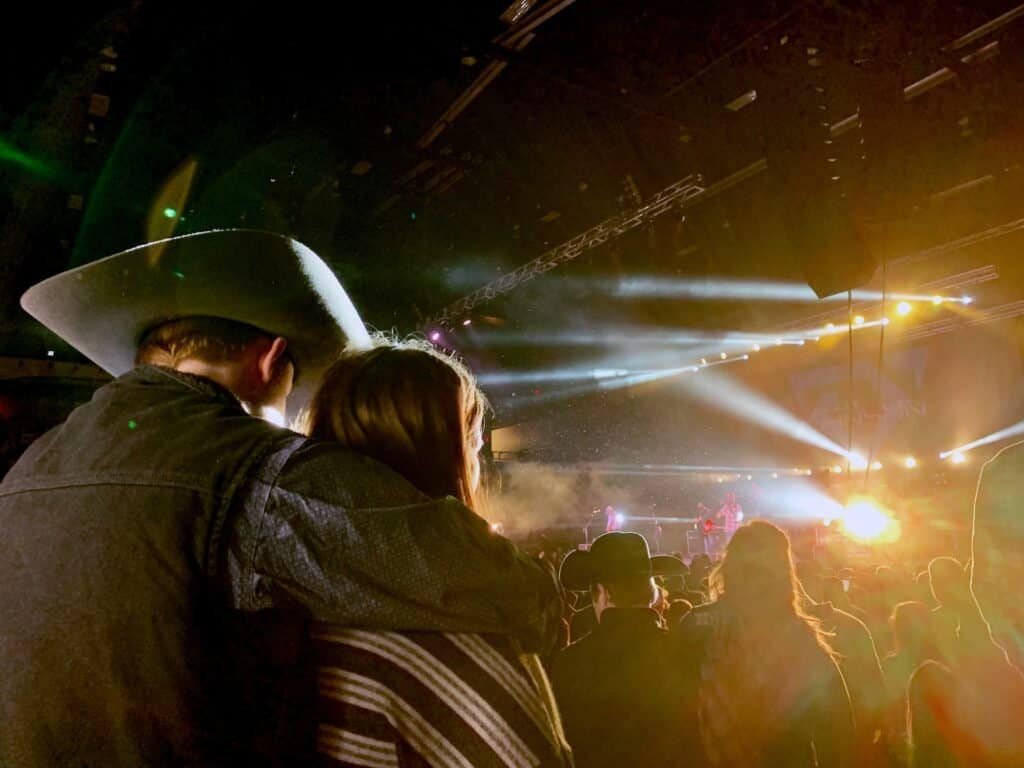 Explore Virginia Beach
Make it a Full Day Out
The Virginia Beach Amphitheater is located in a vibrant city with plenty to offer. Consider making it a full day out by exploring the local attractions, restaurants, and beaches before heading to the venue for your event.
Local Accommodations
If traveling from out of town, consider staying the night at a nearby hotel. Virginia Beach has a range of accommodations to suit different budgets, and staying nearby can make your trip to the amphitheater more relaxed and enjoyable.
Return for More
Attend Regularly
The Virginia Beach Amphitheater hosts events yearly, so consider attending regularly. Doing so lets you experience various performances and continuously create new memories.
Stay Involved
Joining mailing lists, following the venue on social media, or becoming a member of its fan club can keep you involved and updated on future events. It can also provide early access to tickets, discounts, and other special offers.
To sum it up, the Virginia Beach Amphitheater is a fantastic venue with many events and experiences. These tips can make the most of your visit and ensure a memorable and enjoyable experience. Whether you're a seasoned concertgoer or a first-time attendee, the theater will surely provide you with an exceptional musical experience that will leave you wanting to return for more.
Conclusion
In conclusion, Virginia Beach's Amphitheater is a treasure trove of musical delights waiting to be unearthed by eager concertgoers. Whether you're a seasoned music enthusiast or a curious newcomer, there's a tune here for everyone to hum. With some planning, a splash of adventure, and a sprinkling of courtesy, your experience will hit all the right notes. So, put on your dancing shoes, grab your fellow music enthusiasts, and get ready to dive into a world of unforgettable melodies, rhythms, and harmonies that will have you swaying, singing, and coming back for an encore.