THINGS TO DO IN VIRGINIA BEACH
A BEACH TOWN WORTH EXPLORING
Virginia Beach, located in the southeastern part of Virginia, is a vibrant coastal city with a lot to offer. It has long stretches of sandy beaches, a bustling boardwalk, and a variety of attractions and activities to suit any taste. Visitors can explore the city's natural wonders, learn about its rich history, or simply lounge on the beach and soak up the sun.
You might also want to see when is the best time to visit Virginia Beach.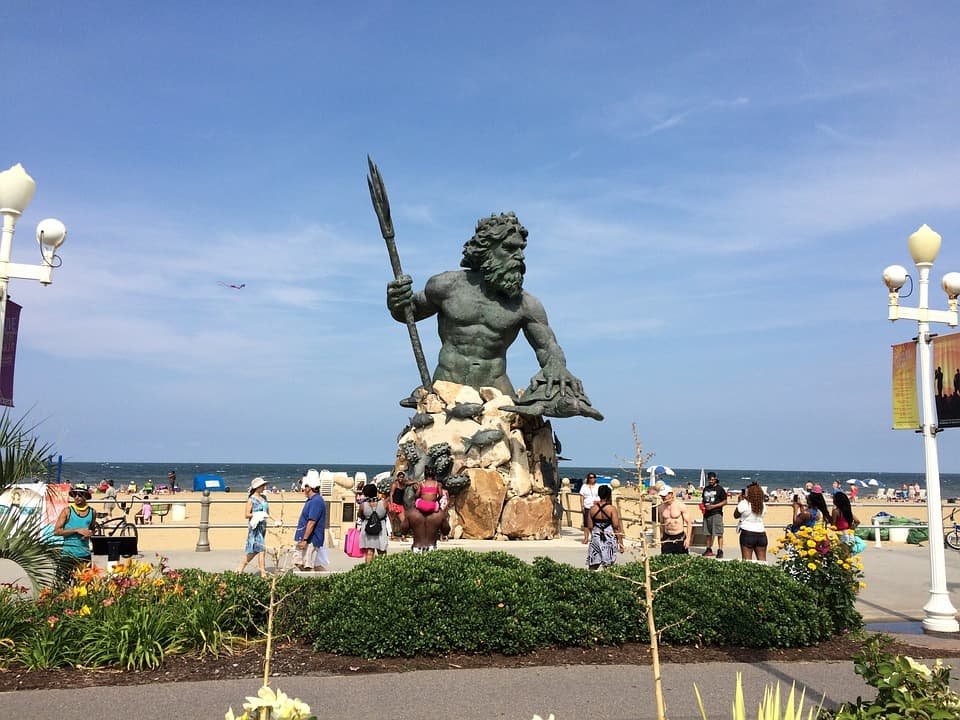 Why You Should Explore Virginia Beach & Never Run Out Of Things To Do In Virginia Beach!
Virginia Beach is worth exploring whether you're traveling solo or with friends and family. In addition to its beautiful beaches and boardwalks that stretch for miles along the Atlantic Ocean shoreline, many other attractions make it an exciting destination for visitors. From historic landmarks such as lighthouses to museums showcasing military aviation history or marine life conservation efforts – there's something for everyone here!
Exploring Virginia Beach is also a great opportunity to experience the local culture as well as try some mouth-watering seafood dishes that are unique to the area. The city hosts many events throughout the year including music festivals, art shows, and sports competitions which are all worth checking out!
Plus, it's an affordable vacation spot where you can indulge in luxurious amenities without breaking your budget. With so much to offer visitors from all walks of life – let's dive in and explore this picturesque coastal town together!
Thing to do in Virginia Beach - Boardwalk
The Virginia Beach Boardwalk is a must-see attraction in Virginia Beach that stretches for three miles along the city's oceanfront. It is perfect for an early morning stroll, catching a beautiful sunset, or just people-watching. The boardwalk has been recognized as one of the best boardwalks in America by Travel + Leisure and USA Today.
Description of the Boardwalk
The boardwalk features a concrete path for bikers and skaters, green parks with benches to relax on, and plenty of restaurants and shops to explore. Within the northern section of the boardwalk sits Neptune's Park, home to a popular open-air concert venue that hosts events year-round.
During summer months there are street performers such as musicians playing their guitars or magicians performing tricks for visitors. The southern end of the boardwalk is home to the Virginia Beach Fishing Pier where you can rent fishing equipment or just enjoy strolling on it while taking in views of dolphins playing in the distance.
The iconic King Neptune statue is also located nearby. This 34-foot-tall bronze statue weighs 12 tons and was installed in 2005 to honor King Neptune's trident mythology stories and symbolize his rule over all aquatic creatures.
Activities to do on the Boardwalk
The boardwalk offers plenty of activities such as bike riding, rollerblading, or surrey rentals which are four-wheeled bikes that can seat up to six people at once – perfect for friends or family traveling together! There are also plenty of restaurants along this stretch including seafood shacks that serve fresh crab cakes, lobster rolls, or clam chowder soup! You can take surfing lessons from professionals at local surf schools who will teach you how to navigate waves with ease!
Or if you're feeling adventurous, take a parasailing tour where you'll be lifted high above the ocean and enjoy stunning panoramic views of the coastline. The boardwalk is also a perfect spot for relaxing picnics or beach volleyball games with friends.
The Virginia Beach Boardwalk is more than just a boardwalk, it's a fun-filled adventure waiting to be enjoyed. So pack your sunscreen, grab your swimsuit, and head out to explore everything this beautiful attraction has to offer!
Thing to do in Virginia Beach - Boardwalk
FIRST LANDING STATE PARK: A HISTORIC AND SCENIC DESTINATION
First Landing State Park, formerly known as Seashore State Park, is located on Cape Henry in Virginia Beach. The park is steeped in history and has played a significant role in Virginia's story.
The park was named after the first landing of settlers from England in 1607, making it one of the state's most historic destinations. The park covers over 2,800 acres with a diverse ecosystem that includes marshes, dunes, forests, and beaches.
It offers visitors a chance to escape from the hustle and bustle of city life by providing numerous recreational activities such as hiking trails through maritime forests and freshwater ponds. Visitors can also explore the secluded beachfront or paddle along Broad Bay to observe unique wildlife species inhabiting the area.
Popular Activities:
The park offers numerous activities for visitors looking for adventure or relaxation alike. You can hike or bike on over 20 miles of scenic trails that feature diverse terrains like sandy dunes or shady forest paths. You can take a guided tour to learn about the local marine life at Sunset Beach's Crabbing Bridge; rent kayaks or stand-up paddleboards to explore Broad Bay; go fishing along Lynnhaven Inlet; or even try horseback riding if you're feeling adventurous!
Visitors can get up close with nature through birdwatching or observing other wildlife species like white-tailed deer grazing near freshwater ponds within the park grounds. Camping options are also available with various campgrounds for different needs, including tent sites and cabins equipped with electricity and air conditioning.
First Landing State Park is a must-see destination when exploring Virginia Beach due to its historical significance as well as its natural beauty and recreational opportunities. Whether you're an outdoor enthusiast looking for an adrenaline rush or someone seeking peaceful solitude among nature's wonders, this park has something for everyone.
Thing to do in Virginia Beach - Museum
If you're a fan of aviation history, then a visit to the Military Aviation Museum in Virginia Beach is an absolute must. The museum houses an incredible collection of World War I and World War II-era aircraft, many of which have been restored to their former glory. In addition to the planes themselves, the museum also features exhibits on aviation technology and its role in America's military history.
Walking through the museum feels like stepping back in time. Visitors can get up close and personal with some of the most iconic planes from both world wars, including a P-51 Mustang and a Messerschmitt Bf 109G.
Docents are on hand to answer questions and provide context for each plane's significance. For aviation enthusiasts, it's an unforgettable experience that brings history to life.
But the Military Aviation Museum isn't just about showcasing beautiful planes – it's also about honoring Virginia Beach's aviation legacy. The city has played an important role in military aviation for over 100 years, dating back to the establishment of Naval Air Station Oceana during World War II.
Today, Oceana is one of the largest military bases in the world and is home to several squadrons of F/A-18 Hornets. By preserving these historic planes and telling their stories, the museum pays tribute not only to America's military history but also to Virginia Beach's place within it.
Thing to do in Virginia Beach - Local Beach
ESCAPE THE CROWDS: SANDBRIDGE BEACH
Virginia Beach's most popular beaches can get crowded during peak season. If you're looking for a quieter and more peaceful beach experience, Sandbridge Beach is your answer. Located about 15 miles south of the boardwalk, this secluded beach offers a serene atmosphere with its pristine dunes and calm waters.
Overview of Sandbridge Beach
Sandbridge Beach is a secluded oasis that stretches over five miles along the Atlantic Ocean. It's located in the southernmost part of Virginia Beach and is surrounded by beautiful natural landscapes, including Back Bay Wildlife Refuge and False Cape State Park. The beach is known for its private residential homes, which give visitors a sense of exclusivity while enjoying their time at Sandbridge.
Activities to do at Sandbridge Beach
Sandbridge offers plenty of activities for everyone to enjoy. Whether you're into water sports or just want to relax on the beach, there's something for everyone.
You can paddleboard or kayak along the shoreline or explore Back Bay with a rented canoe or kayak from one of many local outfitters. Bike rentals are also available if you'd like to explore False Cape State Park's network of trails.
For those who want to soak up some sun without worrying about getting wet, Sandbridge is perfect for sunbathing, reading books under an umbrella, or playing volleyball with friends and family on the spacious stretch of sand. And be sure not to take advantage of exploring nearby fishing piers and quaint local shops in Sandbridge Village!
Thing to do in Virginia Beach -Marine Science Center
VIRGINIA AQUARIUM & MARINE SCIENCE CENTER
Underwater World: A Peek into the Virginia Aquarium
When visiting Virginia Beach, one destination that should not be missed is the Virginia Aquarium & Marine Science Center. Located within walking distance of Rudee Inlet, the aquarium offers visitors a chance to explore the world's oceans through interactive exhibits and live animal displays. It features over 800,000 gallons of aquariums, including an exhibit with over 300 species of animals native to Chesapeake Bay and its surrounding habitats.
One of the most popular exhibits at the Virginia Aquarium is "Underwater Tunnel," which allows guests to walk through an underwater tunnel surrounded by a variety of marine animals including sea turtles, sharks, and colorful fish species. Other highlights include two touch tanks where visitors can interact with stingrays and horseshoe crabs and an outdoor aviary featuring coastal birds.
Protecting Marine Life: The Importance of Conservation
The Virginia Aquarium's mission is to provide education about marine life and promote conservation efforts for marine wildlife in their natural habitats. The center has numerous educational programs aimed at teaching visitors about environmental stewardship and ways they can help protect marine ecosystems. Additionally, the center plays an active role in rehabilitating injured sea turtles through its Stranding Response Program.
This program provides medical care for sick or injured sea turtles found along Hampton Roads' beaches before releasing them back into their natural habitat once they have recovered. Visiting the Virginia Aquarium provides visitors with a fun-filled day exploring different oceanic environments while also learning about conservation efforts that are essential for protecting our marine life resources.
Thing to do in Virginia Beach -Lighthouse
CAPE HENRY LIGHTHOUSE: A GUIDING LIGHT IN VIRGINIA BEACH
Located on the grounds of Fort Story military base, Cape Henry Lighthouse is one of the oldest lighthouses in the country, and an important historical landmark in Virginia Beach. Built in 1792, the lighthouse served as a navigational aid for ships entering the Chesapeake Bay.
Today, it stands tall as a testament to our nation's maritime history. The lighthouse has undergone several renovations and restorations over the years, making it accessible to visitors who want to explore its fascinating history.
If you're interested in learning about how Cape Henry Lighthouse played a crucial role in early American history, there are several touring options available. You can take a guided tour of the lighthouse and climb up its narrow spiral staircase to reach the top where you can enjoy breathtaking views of Chesapeake Bay.
You'll also learn about how lighthouses like Cape Henry helped guide navigators from all over the world safely through treacherous waters. For those who prefer self-guided tours, you can walk around the grounds of Fort Story where you'll see several information plaques detailing the history and significance of this iconic structure.
Whether you're a history buff or just looking for an interesting way to spend your day while exploring Virginia Beach, Cape Henry Lighthouse should not be missed! Schedule your visit today and experience firsthand why this storied structure has become such an iconic symbol of our nation's maritime heritage.
Thing to do in Virginia Beach - Wildlife Refuge
DISCOVERING THE BACK BAY NATIONAL WILDLIFE REFUGE
If you're interested in immersing yourself in the natural beauty of Virginia Beach, the Back Bay National Wildlife Refuge is an absolute must-visit. This protected area is home to a diverse array of flora and fauna, providing a peaceful respite from the hustle and bustle of city life.
The refuge's primary goal is to preserve and protect critical habitats for migratory birds, such as waterfowl and songbirds, as well as other wildlife like white-tailed deer, otters, and foxes. One of the best things about visiting the Back Bay National Wildlife Refuge is that there are plenty of activities to do that cater to every interest level.
You can enjoy a stroll along one of several hiking trails that meander through marshes, forests, and dunes. Or you can rent a kayak or canoe and explore over 9 miles of paddling trails that wind through scenic waterscapes.
If you're looking for something more adrenaline-inducing, try your hand at fishing–the refuge features numerous ponds stocked with bass, bluegill, crappie, and more! Other popular activities include wildlife watching (especially birdwatching!), hunting (during certain seasons), biking on paved roads within designated areas or just relaxing on the beach with a good book while enjoying stunning ocean views from afar.
Spotting Local Flora & Fauna at Back Bay
The diversity of plant life at Back Bay National Wildlife Refuge may surprise you–more than 1,000 species have been documented there! Many varieties are native to Virginia Beach's coastal region such as seaside goldenrod or sea oats which serve important ecological functions for stabilizing dunes along beaches.
As for animal life within the refuge – there are many opportunities to spot interesting creatures. Over 300 species of migratory birds stop by during their journey along the Atlantic Flyway to rest and refuel here.
You'll find everything from colorful songbirds, like Baltimore Orioles and Indigo Buntings to raptors such as Ospreys and Bald Eagles. If you're lucky enough, you may even spot a rare bird species like the Piping Plover which nests on back dunes along the refuge's beach.
During your visit, make sure to keep an eye out for other animals such as raccoons, foxes, muskrats, or even river otters that frequent the refuge's wetlands. Additionally, Back Bay is home to several reptiles including snakes and turtles – so keep your eyes peeled when walking on nearby trails!
Thing to do in Virginia Beach - Local Beach
When it comes to outdoor fun in Virginia Beach, Ocean Breeze Waterpark must be on your list of must-see attractions. This sprawling water park features over 30 rides, slides, and attractions that cater to families, friends, or solo travelers looking for some summer fun.
One of the highlights of the water park is the Runaway Bay Wave Pool. This massive wave pool creates swells up to four feet high, giving visitors a taste of ocean waves without having to cross any beaches.
Another popular attraction is the Adventure River lazy river that winds its way around the whole park. You can float gently along while admiring views of other watery attractions such as fountains and waterfalls.
For thrill-seekers, there are plenty of fast-paced rides like the Vanish Point drop slide or H2O UFO where you will experience twists and turns at breakneck speeds before splashing into the pool below. With so many options for all ages and personality types, you'll never run out of things to do at Ocean Breeze Waterpark.
Families Can Have Fun Too
Ocean Breeze Waterpark is a great destination for families looking for a day filled with laughter and memories. The park has a designated area called Buccaneer Bay that is perfect for younger children with its shallow pools and smaller slides.
There's also an entire section called Neptune's Kingdom dedicated entirely to family fun with multiple attractions like lagoon pools with beach entry points. Parents can enjoy lounging on one of the many deck chairs conveniently placed around the park while keeping an eye on their little ones as they explore endless aquatic adventures.
Facilities like lockers are available if you need a safe place to keep your belongings while enjoying all that Ocean Breeze has to offer. Whether you're traveling with family or not, Ocean Breeze Waterpark is the perfect place to cool off on a hot summer day while enjoying some of the most innovative water rides and attractions around.
Thing to do in Virginia Beach - Tunnel
CHESAPEAKE BAY BRIDGE TUNNEL
Ok hear me out. As you make your way down Virginia Beach, you may come across a long stretch of road that seems to disappear into the horizon. That's the Chesapeake Bay Bridge Tunnel, one of the most impressive engineering feats in modern times. The bridge tunnel spans 23 miles and connects Virginia Beach to Cape Charles on the Eastern Shore of Virginia.
It's not just a convenient way to get across the water; it's an experience that will leave you breathless. The Chesapeake Bay Bridge Tunnel has a long and fascinating history.
Construction began in 1960 and took four years to complete. At the time, it was the longest bridge-tunnel complex in existence, and it remains an impressive feat of engineering today.
The bridge is made up of two tunnels and four man-made islands that provide a place for travelers to rest or take in some stunning views of the Atlantic Ocean or the Chesapeake Bay. You'll also see wildlife such as dolphins, sea turtles, pelicans, and ospreys along your drive – so keep your eyes peeled!
Drive like you're on top of the world
The driving experience across the Chesapeake Bay Bridge Tunnel is something special. When you start driving over this immense structure, it feels like you're on top of the world – or at least on top of a very big ocean!
As you approach each island that makes up part of this awe-inspiring complex, there are places where you can pull off to take a break or enjoy some scenic views. One unique aspect of driving across this complex is feeling like you're driving underwater – because at times, that's exactly what it feels like!
When crossing through one of two tunnels underwater (each about one mile long), drivers can look out onto either side through porthole-like windows and see the water sloshing outside. Even for someone who's not crazy about heights or water, this drive is a must-do – because it's not often that you get to feel like you're truly on top of the world.
Thing to do in Virginia Beach - Local Beach
HILLIER IGNITE FITNESS PARK
Hillier Fitness Park is a premier outdoor fitness destination located in Virginia Beach. The park features a variety of workout stations and equipment suited for individuals of all fitness levels. The park is split into two sections; one for adults and the other for children that has a designated play area. The adult fitness section contains multiple stations with equipment that focuses on cardio, strength training, and flexibility, including monkey bars, pull-up bars, and balance beams. The park also features an obstacle course, which caters to the CrossFit community.

The park's layout promotes healthy competition through its cluster of two main sections that allow family and friends to work out in proximity while challenging themselves. Additionally, the open field is perfect for sports practice, relaxation, or group classes.

The Hillier Fitness Park was built as an initiative by the local government, and as a public park, it is open to residents and tourists alike without any fees. In addition to the standard amenities available at the park, there are restrooms, water fountains, and ample parking space for visitors.

Overall, Hillier Fitness Park is a great place to visit for individuals or families searching for an outdoor location to keep themselves fit and active. The park promotes a sense of community and healthy habits for an overall great outdoor, workout experience.
Conclusion
Recap must-sees in Virginia Beach
Virginia Beach is a destination that offers visitors many exciting and unique experiences. From the bustling boardwalk to the peaceful surroundings of nature reserves, there is something for everyone. The top 10 must-see attractions in Virginia Beach, as outlined in this article, are the perfect way to start your journey exploring this beautiful city.
The Virginia Beach Boardwalk offers plenty of activities such as biking, rollerblading, and relaxing on the beach. First Landing State Park provides both a scenic view and historical context for visitors while Military Aviation Museum sheds light on the importance of aviation in Virginia Beach.
Sandbridge Beach is another great place to relax or enjoy outdoor activities like kayaking or fishing. The Virginia Aquarium & Marine Science Center showcases an array of aquatic life while Cape Henry Lighthouse highlights the rich history of Virginia.
Back Bay National Wildlife Refuge gives visitors a chance to experience nature at its best while Ocean Breeze Waterpark offers cool relief from hot summer days. Driving across the Chesapeake Bay Bridge-Tunnel could be an unforgettable part of your trip.
Encouragement to Explore
There is so much more to see and explore in Virginia Beach beyond these top 10 must-see attractions! Whether you're interested in surfing, sailing, fishing or just enjoying some fresh seafood, Virginia Beach has it all. So go ahead and plan your trip to this beautiful city today!
With its pristine beaches and diverse range of activities for all ages and interests, you won't regret exploring everything that Virginia Beach has to offer. Remember: there's always something new to discover here – so don't miss out!